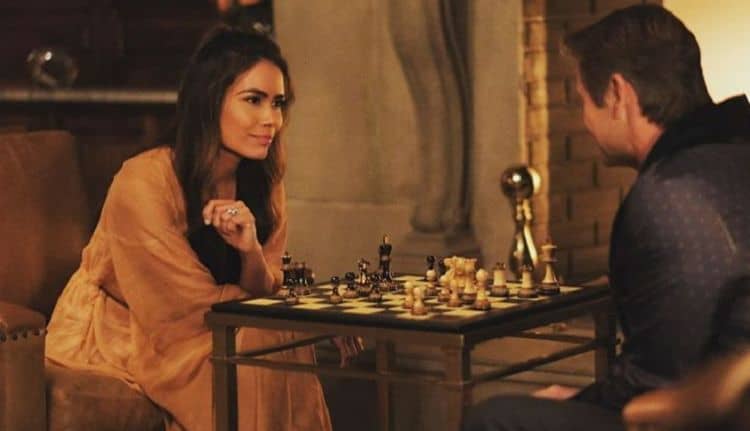 Daniella Alonso was a model who went on to become a successful actress on the TV screen. She is known for her appearances on NBC TV shows Revolution and Friday Night Lights, but it should be noted that her career has seen her in more than a few movie roles as well. More recently, Alonso had the chance to be one of the main cast members on the first season of The Night Shift, which was also on NBC.
Here are five things that you may or may not have known about Daniella Alonso:
Grew Up in New York City
Alonso grew up in New York City. As a result, she has made a number of interesting observations about the differences between the people living in New York City and the people living in Los Angeles. For example, she says that people in New York City live much more hectic lives whereas people in Los Angeles live at a slower pace that lets them put more emphasis on eating right and living well. Furthermore, Alonso has stated that people in New York have a much wider range of occupations whereas people in Los Angeles can seem as though all of them are connected to the entertainment industries in one way or another.
Puerto Rican, Incan, and Japanese Heritage
Her mother is Puerto Rican. In contrast, her father is a Peruvian of mixed Incan and Japanese heritage. Regardless, it is interesting to note that Alonso says that her family members have been supportive of her acting career but has remained otherwise uninterested in the acting business.
Got Started through Ford Modeling Agency
Alonso got her start in the entertainment industries as a model. Initially, she was discovered by the Ford Modeling Agency, which is called thus because it was started up by a wife-and-husband team of Eileen and Gerard W. Ford. As a result, she started appearing in teen magazines such as Seventeen and Teen, which in turn, led to appearances in commercials for famous brands such as Cover Girl, Clean and Clear, and Volkswagen. In total, Alonso has appeared in around 30 national advertisements as well as more than 20 advertisements aimed at the Spanish market in particular.
Supports PETA
She happens to be an animal lover. In fact, Alonso is one of the celebrities who support PETA, as shown by her choice to appear in a commercial supporting the use of synthetic leather rather than its authentic counterpart. For people who are unfamiliar with PETA, it is an American animal rights organization that opposes animal testing, animal farming for food, animal farming for fur, and the use of animals in entertainment but has attracted criticism from both within and without the wider movement for its stunts, its use of sex appeal in its marketing campaigns, and the high percentage of euthanization for the animals that end up in its animal shelters.
Does Martial Arts
Alonso has a fourth level green belt in karate. Furthermore, she trains in tae-kwon-do, combining the two into a hybrid system that is meant for keeping in good shape as much as actual self-defense. Perhaps unsurprisingly, Alonso has said that her practice of martial arts has influenced her casting for some of her roles.