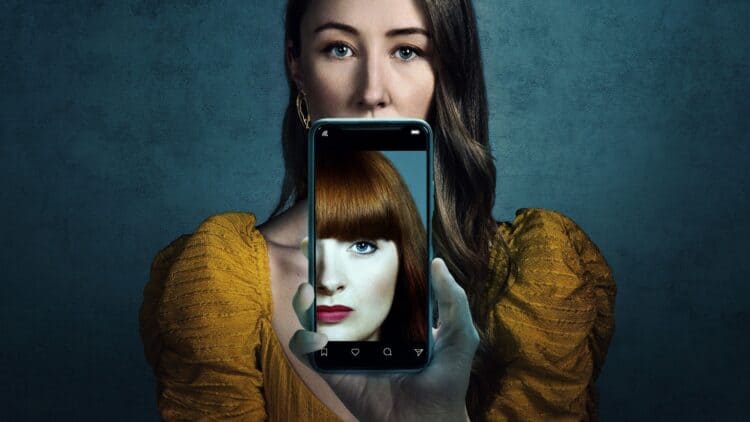 Released on June 24, 2022, Chloe is a new psychological thriller series on BBC One and Amazon Prime Video. The six-part series is created by Alice Seabright, who previously worked on shows like End-O and Sex Education. Here's a brief description of what Chloe is about, according to What To Watch: "Chloe was described as "a mystery about obsession, deceit, identity and grief". It follows Becky (Erin Doherty) a young woman who still lives with her mum. She's working as a temp and is living her life through the apparently flawless lives of social media influencers. In particular, Becky has become obsessed with an Instagram account owned by Chloe (Poppy Gilbert).
When her idol suddenly passes away, Becky adopts a new identity as "Sasha" so she can infiltrate Chloe's circle of friends and uncover what happened to the social media starlet. As her "Sasha" alter-ego, Becky becomes a larger-than-life heroine living a far more exciting life than her actual one. Will Becky lose herself completely in the game she's playing? Only time will tell…" The show features an impressive list of cast members, some of whom have appeared in notable projects in the past. If you want to learn more about the cast of Chloe, look no further. Here are the cast members of the BBC One and Amazon Prime Video psychological thriller series Chloe.
Erin Doherty
Erin Doherty plays Becky Green in the BBC One series Chloe. Doherty is an Irish actress best known for her role as Princess Anne in the Netflix drama The Crown. Doherty was born in Dublin, Ireland, in 1995. She attended Bristol Old Vic Theatre School, where she studied acting. After graduation, she appeared in a number of stage productions, including a production of Junkyard. In 2016, she made her television debut in an episode of the drama Call the Midwife.
Doherty's breakout role came in 2018 when she was cast as Princess Anne in The Crown. The Crown is a historical drama that chronicles the life of Queen Elizabeth II. Doherty has appeared in two seasons of the show. Outside of her work on The Crown, Doherty has also had roles in the film Firebrand, where she is set to portray the writer Anne Askew. In an interview with Town and Country Magazine, Doherty explained the research process involved in playing her character in Chloe:
"I'll always get a fresh notebook and I'll fill it with drawings, reflections, anything. But it always starts with a timeline of everything that's happened to this person from the time they're born through to the time that we meet them. I also knew that I had to get online, because I'm not social media tech-savvy and I just don't quite engage with it that way. I basically had to download the [Instagram] app on my phone and every morning the first thing I would do is scroll, and every night it would be the last thing I did. It really affected my happiness." She was also asked whether the characters she plays stick with her, to which she replied:
"They do stick with you. The way I like to work is to become completely submerged, and that takes its toll. With Becky, it took a long time to get out of her frame of mind. She has such a low sense of self-worth, and existing in the world, in that dark place, took a long time to come out of. I feel like that was a lesson for me: You have to choose wisely what you can give to a part, then on the flip side of that, what you can give to yourself in order to recover."
Billy Howle
Billy Howle portrays Elliot Fairbourne in Chloe. Howle is an up-and-coming British actor who has already made a name for himself in both film and television. Born in Stoke-on-Trent, Staffordshire, Howle made his TV debut as Billy in Vera. Since then, he has appeared in a number of high-profile projects, including films On Chesil Beach, The Seagull, and Outlaw King. On TV, he has starred in Glue, The Serpent, and MotherFatherSon. Howle is a versatile actor who is equally at home in dramatic roles as he is in comedic ones. He has demonstrated a remarkable range, making him one to watch in the years to come.
Pippa Bennett-Warner
Pippa Bennett-Warner plays Livia Fulton in Chloe. Bennett-Warner is a British actress who is best known for her roles in the shows Gangs of London and Roadkill. She has also appeared in the Michael Grandage production of King Lear, in which she played Cordelia. Born in London in 1988, Bennett-Warner began her career in theater. She made her film debut in the 2016 movie Patient Zero, and has since appeared in a number of films and television shows. In addition to her work in front of the camera, Bennett-Warner has also worked in video games, having voiced the character of Malenia, Blade of Miquella in Elden Ring.
Jack Farthing
Jack Farthing portrays Richard Greenback in Chloe. Farthing's IMDb profile describes his career as follows: "Jack was born in 1985 and grew up in his native London, attending Westminster School and the Hall School, Hampstead, where he got into acting . From Oxford University he went to study acting at LAMDA but left when he was spotted and cast as Benvolio at the Globe Theatre, taking part in other productions there, as well as at the Orange Tree, Richmond and the Royal Court. Here he was seen by casting director Andy Pryor who got him into television, with a small role in the period drama 'Dancing on the Edge' and a more substantial, recurring part as Freddie, daft son of the house in 'Blandings'. Now an established television face he has appeared in the likes of 'Poirot' and the remake of 'Poldark'."
Poppy Gilbert
Poppy Gilbert plays the titular Chloe Fairbourne in Chloe. The actress has appeared in the Netflix series Stay Close. She had also previously worked in Call the Midwife, The Pale Horse, Midsomer Murders, Leonardo, and Sherwood.
Brandon Micheal Hall
Brandon Micheal Hall plays Josh Stanfield in Chloe. The actor has previously worked on shows like The Mayor and the comedy-drama God Friended Me. Hall was a series regular in the TBS/HBO Max comedy series Search Party, which ran from 2016 to 2021.
Other actors
Other cast members playing roles in Chloe include Akshay Khanna as Anish, Lisa Palfrey as Pam, Scott Rose-Marsh as Jerome, and Alexander Eliot as Phil Fulton.
Tell us what's wrong with this post? How could we improve it? :)
Let us improve this post!