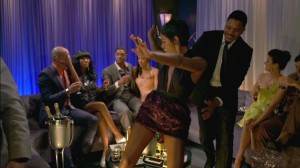 All good things must come to an end, and in the case of The Game, that "good thing" was the Derwin and Melanie faction of the show. The couple's send off was a quiet one without bells, whistles, and tears from their fellow Saber team members and friends. However, the true question is whether or not if the goodbye was satisfactory enough for the long time fans. I will get more into that later. Other developments included a somewhat double surprise move by Jason Pitts, an emotional revelation for Tasha, a surprise appearance of someone from the past, and the apparent resurrection of the old school Malik Wright.
At first, last night's finale felt like it would have been a perfect series finale for The Game. Jason and Chardonnay ended on a damn good high note, Derwin and Melanie settled their differences, Malik was back on top, and Tasha finally found love through Pookie (Rockmond Dunbar) and was happy for it. Then at about the 16min mark on my DVR everything went to hell quickly, shattering any semblance of closure I might have expected to come.
Malik's girl Jenna (Tika Sumpter) started acting a damn fool at the celebration party, forcing Malik to cut ties with not only the crazy chick. Personally, I hope she never returns after spitting in the man's face after Malik made an adult decision. Love the actress, but the character needs to stay gone for good after that act of disrespect. Along with winning the championship game for the Sabers, the split sent Malik back to his old ways: fast cars and equally fast women. Has the "humbled" Malik been put to rest for good? I hope not.
And what about that Rick Fox appearance? I knew good and damn well that he didn't just appear out of nowhere to give Melanie advice on her marital issues with Derwin. He had unfinished business of his own and that whole speech he gave to Mel was really about him and Tasha. To be honest, after seeing his name pop up on Tasha's cell phone while she was sleeping, I'm heavily looking forward to this storyline next season.
Jason and Chardonnay's storyline came to a very plausible, yet unpredictable head and I couldn't help but feel happy for the both of them. However, it pains me to say that for one reason and one reason only: Kelly Pitts sounds like a thing of the past, yall. Her name was brought up again on tonight's episode when Jason called her to discuss something serious, which I thought was Jason (surprisingly) coming to terms that he really wasn't ready to settle down with Chardonnay. But that wasn't the case as Jason presented Chardonnay with a marriage proposal and Chardonnay's dream spa, "Spadonnay," all in one swift motion. I just wish Kelly could have at least made appearance to be on the other side of that phone call, but beggars can't be choosers.
Now to what was really on the minds of viewers, which was the send off of Derwin and Melanie and
how the writers chose to have the characters say goodbye. To keep it as short as possible… they didn't.
Did we get closure for the two? Yes, but it was basically closure to their current storyline, not their journey from Girlfriends to now. Derwin showed no signs of leaving the Sabers, while Melanie only wanted her man to be her cheerleader for once and didn't ask Derwin to move to D.C. permanently. So I wonder how will the writers explain the couple's move to D.C. and off the show next year? Will the two come back to wrap up their story in the premiere? Hopefully.
But most important, what type of show will The Game be next year in general? The heart of show (Melanie and Derwin) have been removed, so what can BET and The Game producers/writers do to keep the show from becoming a soulless version of itself? The sad thing is that, for me at least, there is little for both parties to do. With the chances of Brittany Daniel returning to the show becoming increasingly dim and both Tia Mowery Hardrict and Pooch Hall gone, I'm going to reiterate that Season Six of The Game should be its last. I would rather see it go out on top than slowly be put out of its misery. At least give the fans that piece of solace.
What did you think about The Game Season Five finale? Are you looking forward to Season Six?
Photo Credits: BET
Tell us what's wrong with this post? How could we improve it? :)
Let us improve this post!