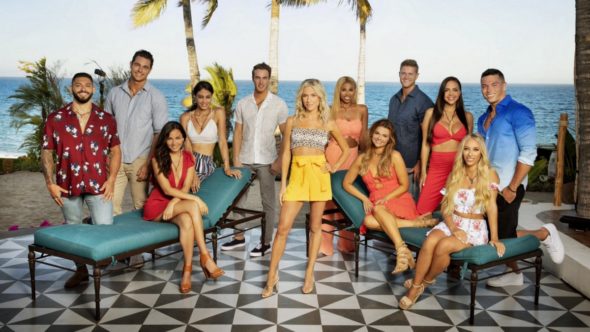 If you could live in Paradise, would you go? Now, think again, because this paradise allows other live-in contestants to vote you out. It seems like the perfect place to meet the love of your life or at least hook up with someone amazing. The sand, and sun, the breeze in the trees are all a perfect recipe for romance, but it takes more than a beautiful background to make love work. Equally important is the fact that it will take more than love to win Paradise Hotel. Players need a partner and a plan plus a healthy dose of luck to make it through this innovative gameshow meets dating show.
1. Who You See in the Mirror is Not What the World Sees
In the very first episode of season one, Zack the bodybuilding, non-drinking, self-absorbed character expected to have his pick of women. However, when the first night came around, things got very interesting. The cast was informed that there were only six bedrooms. That meant that out of eleven people, one of the women would sleep alone.
Charla, the overconfident and catty blonde ended up sleeping alone, and quickly showed her lack of culture by freaking out over how the posh hotel's staff unpacked her belongings. Sadly, perhaps no one had ever asked her to stay in an upscale hotel before, or she would have expected this treatment. Staff at swanky hotels unpack for you without being asked. They don't care what's in your luggage, they put it away so you can concern yourself with other matters.
Zack discovered that his looks and swagger didn't get him anywhere. Both of his top choices quickly went with other men, and the woman who did like him (Amy) got to see his unpleasant side. He made his disappointment and ego known at dinner, and that didn't earn him any points with anyone. Even Amy, the tomboy prom queen, who thought he was good looking and funny at first ended up disenchanted with him.
2. Life Will Throw You a Curve Ball (SPOILERS)
Charla, the first woman out ended up as a season one winner. In spite of her initial attitude, she managed to make it to the end. She was one of the first two winners, and that was in no small part due to her eventual partner Dave. Unfortunately for Dave, he wasn't the male winner. Kieth won the men's Paradise Hotel prize of $250,000.
That means that Dave and Tara, who was Kieth's partner, ended up as runners up. In an exciting twist, Paradise Hotel offered the winners a chance to share their prize with their partners. However, it was not mandatory. Kieth shared his bounty with Tara. Meanwhile, Dave ended up going home empty handed as Charla kept her money for herself.
It wasn't very nice of her, but Charla told everyone from the beginning that she was in it to win it, so win she did. We're not sure if the money bought her any happiness though. Hopefully, she prospered and learned a bit about classy hotels in the process. It just goes to show that life will flip a switch on you even when you didn't know there was a switch to flip.
3. People Will do Strange Things to Stay in Paradise
From 'Butt Check," competitions (season 1 episode 2) to rubbing people they just met with oil, things get saucy and very familiar quickly in Paradise. The guys didn't see it coming when one of the women literally asked them to line up so that the ladies could grope their backsides. We're not sure what to say about that.
It was fun to watch people awkwardly grab a row of guys butts to decide whose was best. However, it did remind us a little bit of a wet t-shirt contest. Everyone agreed to be there, but it seemed slightly contrived. It was like watching spring break in miniature, except no one was so drunk they passed out.
By the time season two came around, contestants had to kick it up a notch to keep up with the times. The cast of the second season enjoyed drinks and a divine view from the infinity pool, however, things got spicy that night. They all found themselves stripping down to their underwear at an impromptu party. Once again, the ladies put the men on the spot by demanding lap dances. The guys were all too pleased to oblige.
4. Everyone Wants In
Americans may have invented Reality TV, but we aren't the only ones who love it. No less than eighteen other countries have their own versions of the popular show. Sexy young singles on a dream vacation is clearly a topic that people the world enjoy no matter where they live. Benign voyeurism is the new norm on nighttime TV.
Paradise Hotel certainly knows how to strut its stuff in more than a dozen languages. The show does exceptionally well in Europe. Denmark, tunes in more than most. Huge numbers of viewers get an eye full of the action. It's no surprise that some things translate in any language. After all, wherever you live, there will always be attractive people who are happy to go on a fabulous tropical vacation and try to hook up with like minded attractive partners. Most of the time, we don't get to watch.
5. Love is Surprising
It's been said before, and it's still true that you may never know when love begins, only when it ends. We don't know whether that was true for Princess Sofia, but the proposal was a welcome surprise. If you're wondering how we made the leap from talking about Paradise Hotel to the Wife of Prince Carl Phillip of Sweden, the answer is that there was no leap to make.
Some royal families might have a bit of trouble with the idea of a former Paradise Hotel star and model in men's magazines joining the family. Fortunately for Carl Phillip and Sofia, his family aren't 'like that,' and they welcomed her into the castle as it were. The pair had a lavish, religious wedding, and they seem to be entirely happy together. Sofia Hellqvist may not have found her one-and-only in her brief time at the hotel, but she did find her paradise in the end.
Final Thoughts
Even in the most beautiful places on earth, there's bound to be drama. Living in a so-called paradise is no guarantee of happiness, just beautiful surroundings. Things can change in an instant, and sometimes getting away from it all is the best way to discover who you really are. Not everyone can be a winner, but everyone can enjoy their time in paradise and leave with a smile if they choose to do so.
Tell us what's wrong with this post? How could we improve it? :)
Let us improve this post!