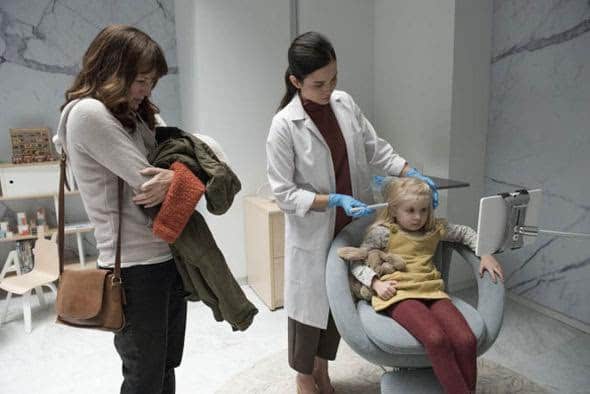 Black Mirror is a British sci-fi series following in the footsteps of its predecessors. After all, it is a collection of stories that examine the potential consequences of new technologies, which is a sci-fi trend that started up when Mary Shelley wrote Frankenstein upon being inspired by galvanism. With that said, considering its name, it should come as no surprise to learn that these stories often have a dark and satirical feel to them, thus enabling them to serve their intended function that much better.
Regardless, while Black Mirror started out on Channel 4 in the United Kingdom, it should be noted that it has since managed to generate a fair amount of interest in other countries as well because of its inclusion on Netflix. For proof, look no further than the fact that one of its episodes called "San Junipero" managed to win not one but two Primetime Emmy Awards, with one being Outstanding Television Movie and the other being Outstanding Writing for a Limited Series, Movie, or Dramatic Special. Now, the fourth series is expected to come out sometime in 2018, so it should come as no surprise to learn that the marketing has started up for the new episodes that are to come.
What Did the Trailer for Season 4 of Black Mirror Reveal?
Recently, a trailer for the fourth series revealed a fair amount of information about one upcoming episode, which is called "Arkangel." Said episode seems to be about how the phenomenon of helicopter parenting could turn to some rather dark ends with some of the new technologies that have been introduced in recent times. The trailer shows us a mother who loses her daughter but manages to find her with no more than a short search. However, she is still so shaken by the experience that she takes the horrendous step of what looks like microchipping her daughter's brain, whether for tracking purposes or something even worse. Summed up, "Arkangel" seems like exactly what fans of Black Mirror have come to expect from the series, which should come as welcome news to those who have been waiting with eagerness.
With that said, it might interest some people to know that "Arkangel" will be directed by Jodie Foster, who tends to be remembered for her performances in both The Accused and The Silence of the Lambs. However, it is interesting to note that Foster is no stranger to directing, seeing as how she got started as a director way back in the late 1980s. More recently, she has directed episodes for both House of Cards and Orange Is the New Black, meaning that the upcoming episode could well prove to be something great.
Unfortunately, the trailer revealed nothing about the other episodes that are still to come. However, as the fourth series of Black Mirror continues to approach its release date, it is certain that more information will come out, meaning that interested individuals should continue paying attention so that they will know the latest information as soon as it becomes available to them.