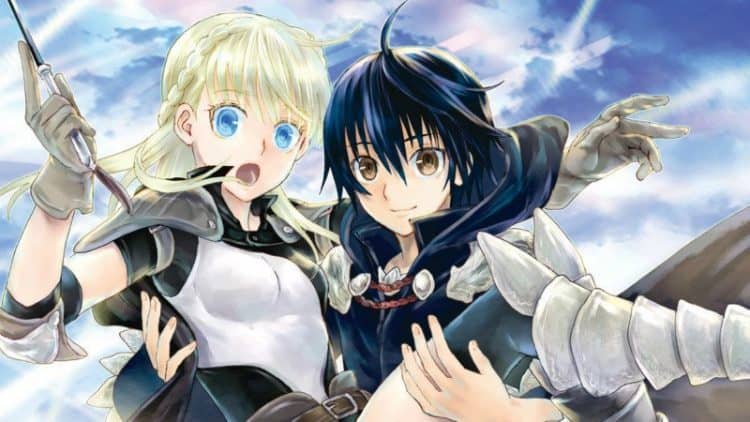 In recent times, isekai series have proven to be very popular with the Japanese market. For those who are unfamiliar with the concept, isekai series can be summed up as series in which a normal person is sent to a fantasy world. Sometimes, this happens through reincarnation. Other times, this happens through other means, with examples ranging from summoning rituals to virtual worlds becoming real. Whatever the case, isekai series tend to be heavy on wish fulfillment, which explains why their protagonists are often people who are not particularly satisfied with their normal lives being sent to new worlds where they are very, very special.
Death March to the Parallel World Rhapsody is an excellent example of an isekai series. In short, the story is centered on a programmer named Suzuki Ichiro who is working long overtime hours because his employer is preparing to publish a couple of MMORPGs. Eventually, he takes a nap before waking up in a fantasy world that runs on video game mechanics under the name Satou Pendragon, which is the nickname that he has been using while running the beta tests. Perhaps unsurprisingly, he possesses a special attack called "Meteor Rain," which he unleashes on a powerful antagonist attacking him. Something that provides him with enough EXP to propel him into becoming one of the most powerful figures in the entire fantasy world. From that point forward, Satou chooses to explore the world while hiding his strength as well as securing the affection of many, many people, both of which are isekai conventions.
What Do We Know about Season 2 of Death March to the Parallel World Rhapsody?
Initially, Death March started out as a web novel on a Japanese platform called Shosetsuka ni Naro. There, it proved to be popular enough to be turned into a light novel, which in turn, proved to be popular enough that the franchise has received both an anime and a manga as well.
The anime was announced in December of 2016 before being broadcast from January of 2018 to March of 2018. In total, the season lasted for 12 episode, thus covering the first three episodes of the series. Sales-wise, the anime was less than spectacular, which is perhaps unsurprising considering that it was not a particularly good adaptation of something that wasn't even a particularly good isekai series in the first place. Still, interested individuals don't necessarily have to give up hope on seeing a second season of Death March if they are fans of the series.
Basically, anime adaptations can get made for a number of reasons. As a result, while the sales numbers of anime adaptations matter a great deal when it comes to the questions of whether they can expect to get further seasons or not, they are not the sole factor that is included in the considerations. For instance, there are some cases when anime adaptations are meant to serve as advertisements of sorts for the light novel series by making them known to more people out there. Due to this, it is possible that Death March could get a second season for the anime because of the very strong sales numbers of the light novel series, which were high enough to make it one of the top ten best-selling light novel series in the whole of Japan for the first half of 2018.
With that said, even if that is the case, there is no way of telling whether a second season will happen or not until the initial announcement comes out. Since the first season just wrapped up in March of 2018, the chances of an immediate follow-up so soon are not particularly high. Something that is particularly true because the sales numbers probably aren't going to encourage a great deal of urgency. Still, it is possible that news of a second season of Death March will come along at some point in the not too distant future. As for its hypothetical content, well, chances are good that it is going to cover more of the 13 volumes that have been released so far. It is possible that it will continue at the same pace of approximately four episodes per volume, but it is also possible that it could compress some things here and there, which has been known to happen from time to time when it comes to anime adaptations. For the time being, there just isn't any real way for people on the outside to know about what is going on behind the scenes for this particular series.
Tell us what's wrong with this post? How could we improve it? :)
Let us improve this post!