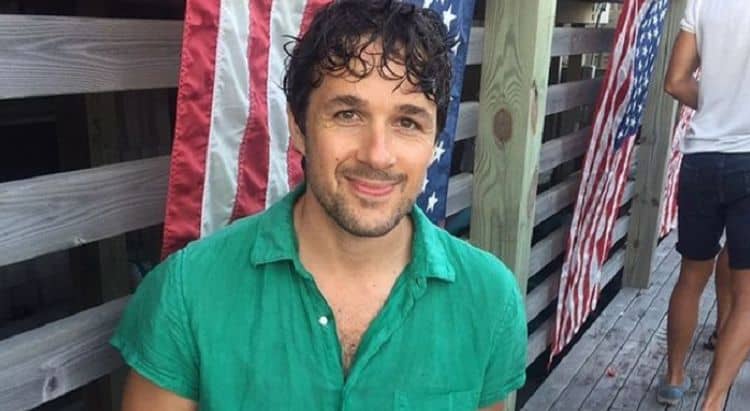 Mark Bendavid has been acting professionally for about 15 years. Thanks to his hard work, talent, and dedication he has earned quite a few roles during his time in the industry. Most people will recognize him from shows like Dark Matter and Good Witch. Most recently, he has gotten a lot of attention for his role in the new Amazon Prime series Reacher. No matter what kind of role Marc is playing, you can trust that he is going to bring something special to every project he's a part of. His growing fan base is very excited to see what the future has in store for the talented actor. Continue reading for 10 things you didn't know about Marc Bendavid.
1. He Comes From a Diverse Background
Marc was born and raised in Canada, but his roots extend far beyond the country's borders. His mother has Belgian ancestry while his father is Moroccan and Jewish. Marc is very proud of his roots and the cultures that have blended together to make him the man he is.
2. He likes Taking Pictures
Just because Marc spends most of his time in front of the camera doesn't mean that he doesn't know how to do his thing from the other side. Marc spends a lot of time outdoors and when he does he likes to capture the moments by taking beautiful photos. While he might not think of himself as a photographer, it's clear that he has a knack for it.
3. He Enjoys Traveling
Traveling is one thing that lots of people would do more of if they had more time and money. Thanks to his career, Marc has gotten the chance to travel to places across Canada, the United States, and other parts of the world. As his career continues to grow, there's no doubt he will be to do even more traveling.
4. He is A Formally Trained Actor
We weren't able to find any information on what inspired Marc to get into acting. What we do know, however, is that it is something he has taken seriously for much of his life. He studied acting at the National Theatre School of Canada where he graduated in 2004.
5. He Loves to Garden
Acting isn't the only thing Marc is good at. He also has a green thumb and gardening is one of his favorite things to do in his free time. Marc enjoys growing a variety of plants and vegetables and he often shares pieces of his gardening journey with his followers on Instagram.
6. He Is a Proud Uncle
Marc has worked very hard to make a name for himself in the entertainment industry, but his career isn't the only thing he's been focused on. He is also a devoted family man. Although Marc doesn't appear to be married or have any children of his own, he has a very close relationship with his sister, Naomi, and he is a very active uncle to her children.
7. He Isn't Afraid to Stand Up for What He Believes In
There are lots of people in the spotlight who choose to stay quiet about serious issues out of fear that they may alienate some of their fans. Marc, however, hasn't been shy about letting his stance be known when it comes to certain issues. He is an advocate for things like women's rights and gun control.
8. He Is A Dog Person
Sorry to all of the cat lovers out there, but Marc Bendavid appears to be a dog lover. While it's unclear if he actually has a dog of his own, he has shared a few photos of a dog on his Instagram profile and it's clear he loves spending as much time with his furry friend as he can.
9. He's Private About His Personal Life
There are lots of celebrities who don't mind sharing intimate details about their personal lives, but Marc isn't one of them. During his career, he has chosen to keep his personal life away from the public eye. Very little is known about him outside of his work as an actor.
10. He Enjoys Playing a Variety of Roles
One of the reasons that Marc has found so much success over the years is because he is the kind of actor who can move between genres with ease. Marc's versatility has allowed him to play all kinds of characters and has opened up countless doors for him. In the years to come, it'll be interesting to see what kinds of roles he decides to play.