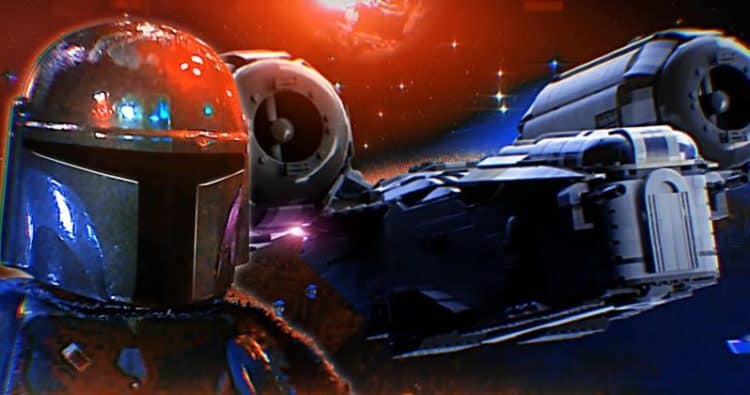 That was actually more brutal than most of the situations seen in The Mandalorian on Disney+, to be honest, but it was every bit as entertaining since back at work and kicking butt without bothering to take names as he proceeded to wipe out a city block while trying to track down a bounty that didn't want to be found. People are already starting to wonder what's going to happen with season 3 of The Mandalorian since now that Grogu is gone the idea of where the show will go is giving a lot of fans an anxiety attack. But the truth behind this is that since Grogu came in so early in the first season, the show has been dominated by the little green guy, and people are wondering what could possibly be entertaining about the show any longer now that Din has no one to look after and no glaring weakness for others to exploit. What a lot of people are forgetting a little too quickly is that Din is still a bounty hunter, and he's still bound to keep working, and there is that not so small matter of his possession of the darksaber and the fact that he and Bo-Katan might have to duke it out to ensure that she earns the ability to wield the darksaber and become the true heiress once again. Of course, there is the idea that she might break with tradition, much as Din has shown that he's capable of by taking off his helmet, which goes against his own beliefs. So maybe we'll see something happen that might act as a compromise, or maybe we'll get a fight no matter what.
It does feel that season 3 might not see certain characters return since Ahsoka is getting her own series, there are rumors about Gina Carano being removed from the series, and Bill Burr's character appears to have completed his arc. Din still has plenty of enemies on his list that might be able to show up and mess around with him, but Boba Fett and Fennec Shand appear to be settling into Jabba's old palace, while Ahsoka appears intent on finding Grand Admiral Thrawn. That kind of leaves Din to himself apart from his issue with Bo-Katan, who isn't going to be likely to forget that she wanted Moff Gideon to herself so that she could retrieve the darksaber. There's still plenty of material to work with in the next season, and there are plenty of chances for adventure and world-building in the Star Wars galaxy still, even if they happen to run into the timeline of the current trilogy, since like it or not, Din is just one person in the grand scheme of things, and there's plenty going on in the galaxy at any given time that can be separate from the main story.
This Lego presentation by a fan of the series is pretty cool when you look at it, and it could even be indicative of Luke Skywalker and Grogu coming across Din during their travels, but it does feel kind of unlikely. Still, just imagine if Din had been able to train Grogu in any way. That would have made him nearly unstoppable since having a Force-user on his side would almost ensure that he would be the most effective bounty hunter in the galaxy. The only bad part though, well, one of them obviously, is that Grogu would still need advanced training to be that great. He's already shown an astounding amount of control, but just imagine what might happen if he was able to grow to maturity and really unleash his potential at one point. It's fair to say that if he was trained as a Jedi that Grogu wouldn't approve of the bounty hunter life, but it does sound reasonable to think that he would still have a soft spot for Din since he came to look at the bounty hunter as a father figure. That makes sense really considering that Din became his protector and kept him safe and relatively sound for a great deal of the first two seasons, and even formed a type of bond with him since he went to great lengths to keep Grogu in one piece. If going after Moff Gideon after the kid had been taken wasn't evidence enough, diving in front of Grogu to take a blaster bolt was definitely the clincher.
It does feel as though Dave Filoni and Jon Favreau might try to create a reunion of sorts with Din and Grogu, but we'll have to wait and see how that pans out since it does feel as though season 3, whenever it hits, will be focused more on Din and his life as a bounty hunter and a Mandalorian. It's going to be a bit of a wait, but we've got time.