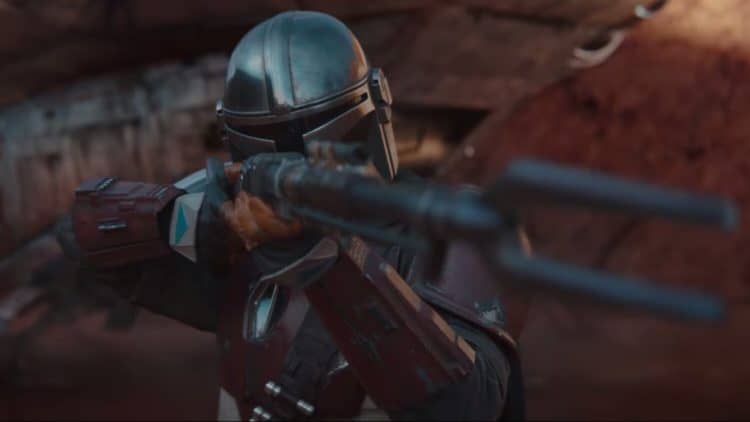 Just so people aren't getting too excited it's not bound to be a character in the story that will be the surprise entrant, unless of course this individual is being given another go at a character that will impact the show in some way. But as Ryan Scott of MovieWeb tells it, Taika Waititi is supposedly coming back to The Mandalorian for season 2 and for a lot of fans this could mean something good since the director/actor has been instrumental in a number of different roles behind and in front of the camera in recent years. In The Mandalorian's finale he played the bounty hunter droid that was reprogrammed to help Mando and the others. Those that watched the show, and there are many of us, will recall that he sacrificed himself in a noble manner to prevent the Mando and his companions from being captured or killed, but some might think there's a way for IG-11 to be resurrected in some manner. Maybe enough of him was left behind to build a new droid from, perhaps a memory processor or something similar was left on the battlefield. It's not entirely likely but with movie and TV magic a lot of things are possible. One would hope that the showrunner, Jon Favreau, would acknowledge the sacrifice by leaving IG-11 as he is, with his sacrifice being the last and most notable act he'll be remembered for. This isn't Marvel comics after all, where death has no real lasting effect.
Having Taika on the show or behind the camera is a big up for The Mandalorian in any case since he's shown to be a master of his craft and has contributed a great deal to the show as it is. Back in November the idea of this show coming out was already enough to excite a lot of fans and once it released people were raving about Mando and Baby Yoda after the reveal since it was a shock to the senses that another creature like Yoda would emerge so easily and that he would end up stealing everyone's heart in a big way. That obviously was met by people comparing him to Baby Groot and to the diminutive Babu Frik from Rise of Skywalker in levels of cuteness, which is something that just died down not long but is still very present. Moving into season 2 however, which sounds as though it will be coming in October of this year, the Mando has been tasked by the Armorer to find Baby Yoda's people, a race of 'enemy sorcerers' as Mando has said that will be able to take the child and teach him their ways better than any Mandalorian possibly could. This says a lot about the Mandalorian's since to any fan of Star Wars that has done their homework, the warrior race does not typically get along with Force-users, be they Jedi or Sith.
From the first few episodes however it was made clear that thanks to his own troubled past Mando saw something in Baby Yoda that he couldn't let be destroyed by the Imperials that had hired him to take on the task of retrieving the child. That does leave one big question though, and that's who in the galaxy hid the child away in the first place from the Imperials. It's amazing that not a lot of people have been asking this or trying to discover just why Baby Yoda was being held by a band of mercenaries and thugs, but whether he was seen as just a valuable commodity or something else is difficult to discern since it wasn't ever really highlighted in the show. It also makes a person wonder just what is going to happen in season 2 as things get rolling and possibly more interaction with Force users comes along, no doubt something the Mando will hope to avoid but might run into all the same. We've seen in the books and even in the movies that Mandalorians can in fact spar with Jedi, but they don't always come out the other side with a decisive win, if they do at all. Of course some people still want to argue whether Jango Fett was a real Mandalorian or just a skilled bounty hunter that wore the armor. The measure of a Mandalorian however, as we've learned from this show if nowhere else, is that they aren't one well-developed race, but more of a culture that accepts foundlings, such as the Mando, and incorporates them into their numbers.
With all that in mind, the Mandalorian's are kind of a ragtag bunch that are unified by their culture and have been able to keep it alive through various tenets that keep them fairly united in their common cause. When season 2 rolls around though it's going to be interesting to see if any more Mandalorian's are going to show up, or if Mando will be on his own.