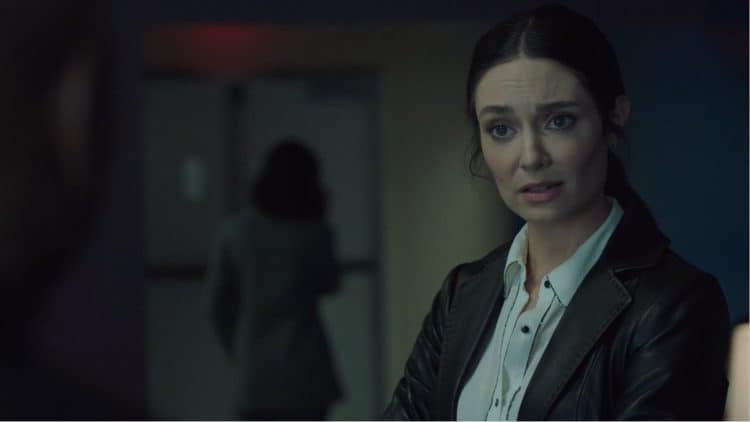 Just reading her bio you can kind of get the impression that Mallory Jansen is the kind of person you could easily cut up with while just sitting around and enjoying your time with her. She seems very down to earth and even the type of person that might enjoy a drink and a good bit of conversation over this or that. She's been around show business for a while now and has learned the ins and outs of the industry for the most part, though she only brought her skills to the U.S. as of 2013. She's proven that she's quite talented though ever since stepping into the spotlight and has still managed to be seen as one of the most interesting people around.
Here are a few things you might not have known about her.
10. She's interested in seeing how other cultures celebrate the holidays.
This seems like a very wide-ranging interest that wouldn't be entirely feasible to be interested in but honestly and truly it's kind of sparked my own interest now since so many different cultures celebrate different days in so many ways for so many different reasons.
9. She's a big fan of Christmas.
From the memories of her childhood to the smells that bring those memories to the foreground Mallory is simply a big lover of Christmas and is one of those that is always enthused when that time of year comes around. Something about the smell of pine trees and the baking that goes seems to get a lot of people in the spirit of the holiday.
8. She rarely gets to use her Australian accent outside of her home.
According to her the accent she uses is usually English or Danish whenever she's playing a part. That seems kind of odd but it might be that the characters she plays outside of her homeland are designed to be seen as a different nationality, then it would make sense.
7. She was in Galavant.
Despite the fact that the show didn't last all that long she did get to play a big part in it as the evil queen and she was just as comical as anyone else since the show wasn't meant to be taken completely seriously as it did have some comedic moments in it.
6. She's been on stage or in one production after another for much of her life.
Mallory enjoyed acting in stage productions in high school but knew that acting in front of the camera was what she wanted to do upon graduating and seemingly hasn't been back to the stage ever since. When you find what you want and you get it you then find that it's tough to accept anything less unless you really need to.
5. She was in Marvel's Agents of S.H.I.E.L.D.
Madame Hydra is a very duplicitous and dangerous villain in the Marvel universe that has tangled with some of the greatest heroes and employed some of the worst villains to her cause. Having already had some experience with being a villain Mallory stepped into this role quite easily, acclimating to it in a way that was quite appealing.
4. She doesn't feel the need to get dressed up all the time.
If she's going out into the public eye for something that has nothing to do with show business then she's going to go grubby, or in other words she's going to just toss on a hat and a pair of shades and make her way to the nearest store to get what she needs. A lot of celebs seem to do this and yet it still seems to surprise people.
3. She likes All Saints.
Remember them? They're still performing even after taking breaks now and again and after the passing of one of their members, but they haven't had a whole of commercial success in the US in quite a while it would seem, at least not on the level that some would think might make them count like they used to. Give Mallory this though, her taste in music is pretty good since All Saints are pleasing to listen to.
2. She loves doing comedy.
Mallory definitely has a funny bone that she likes to use now and again as her sense of humor is very pleasant and has allowed her to flourish in the roles she's taken throughout her career thus far. Something about comedy just seems like it's looser, more liberating in a way when people are allowed to let it go.
1. She'd rather have long hair than short.
It might be an odd thing to notice about anyone but in her opinion she just doesn't look all that great when she has short hair, as it doesn't lay right and she feels awkward. Long hair can be kind of a pain but it does allow people to do more with it.
She is definitely one of a kind.
Tell us what's wrong with this post? How could we improve it? :)
Let us improve this post!