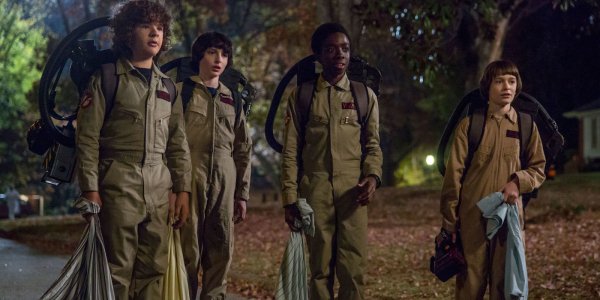 Stranger Things is no stranger to Easter eggs in its many episodes. They're liberally sprinkled all over the place and aren't that hard to find if you really look. Some however are embedded in ways that you have to really think about to find but are pretty cool to discover when you finally realize that they're in plain sight the whole time. Just give it a little thought and you'll realize that a show set in the 1980's will be likely to feature and entire episode's worth of Easter eggs without barely trying.
Here are just a few you might have noticed, or not.
He-Man action figure
He-Man was a big thing back in the 80's and if you picked up on the masculine, overly muscled figure that Lucas's sister was playing with then you probably had a good childhood. Nowadays however He-Man would be kind of an odd character.
Dig Dug
You could claim a twofer on this one since the name MadMax comes up during the same scene. But Dig Dug was a heavily played game back in the day, and of course MadMax was one of the best movies to ever be released.
Dragon Quest
If you managed to play this game and win then you had nerves of steel and reflexes like a cat. It was a difficult game when it first came out and there's a good chance it would be if it was brought out again.
Never say die and 'pirate treasure'
Both of these are Goonie references and the best part is that they're said by the same guy that was the leader of the Goonies back in the day. Bob, played by Sean Astin, is such an upbeat guy that it's hard to keep him down or even worry him about much of anything. But the references here are pretty slick since you would have be a fan of the Goonies to really get it.
Paul Reiser
The reason he's an Easter egg is that he's been two kinds of people in his career, the good guy and the bad guy that you'd love to toss to the monster to make your getaway. Thankfully in Stranger Things season 2 he turned out to be the good guy after a few episodes spent wondering if he was going to be just as bad as the doctor in the first season played by Matthew Modine.
Stay frosty
This is something that could tentatively be connected to Paul Reiser, but is more of a straight up Aliens reference since Corporal Hicks says this to Hudson and Vasquez when they're strung out and ready to break. One of the soldiers says this to his men down in the tunnels beneath Hawkins not too long before they're swarmed by the Demogorgon dogs.
Evil Dead views
Remember back to when Eleven was sweeping up the mess she'd made in the cabin. She found a hidden compartment below the floorboards just like that which was located in the cabin in the Evil Dead. Plus, the camera view when the evil force is stalking Ashe is similar to that of the mind flayer when it is tunneling beneath Hawkins.
Exorcist homage
This one's pretty simple. You have a kid that's being subjected to so many different tests to find out what's wrong with them. The kid then has to be restrained so they don't hurt themselves or others, and then the projectile vomiting is, well, kind of similar but not entirely.
There are a lot more, these are just the most noticeable.