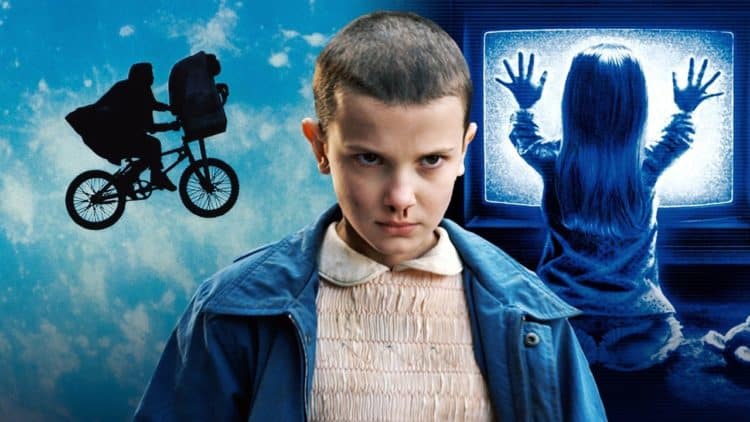 Stranger Things 2 will arrive right in time for Halloween. It's just about two weeks away. For some of us, the supernatural forces encountered in the hit first season are enough to give us pause. Do we really want to be haunted with the Upside Down again? The first round was traumatic. Are we ready to deal with its mysteries again?
When Will vanished, and his friends Mike, Dustin, and Lucas were desperate to find him, adding psychokinetic powerhouse Eleven to the mix was weird enough. Add the psychological trauma of Will's shadow monster visions and being trapped within the Upside Down, and we're not certain if we can go there again … but … we will.
The Duffer Brothers brought us to Hawkins, Indiana the first time. Matt Duffer admits that their approach for Season 2 is to avoid letting us know much about what the shadow monster is or wants. The story allows us to know only that it's beyond human comprehension, and it is an inter-dimensional being. Ross Duffer adds that viewers will know that the shape in the sky, which Will sees, is tied to the threat of the shadow monster. Will is the central point which gives viewers an awareness of what's happening, though complete understanding will not take place until later. The setting for Season 2 is just one year after the horrible events of Season 1 unfold. The friends are working on getting back to normal living… but…that's not going to happen… is it, now.
The Season 2 final trailer sets the frightful mood right away:
Eleven is seen at night, heading for the box of Eggos left for her by Sheriff Hopper last season.
The snowy, misty woods with stark black tree branches devoid of leaves conjures immediate sense of impending doom.
A street in Hawkins has been taken over by the blue light of the Upside Down.
Will is having flashes to the Upside Down, and we know for certain that something more dangerous exists for him. Apocalyptic visions seem to plague him.
The nightmarish shadow monster is surrounded by the Upside Down's blue light, and we perceive its evil and potential for evil. The monster is always seen in the blue light now, rather than the red of earlier trailers.
We also meet for the first time Murray Bowman, conspiracy theorist and journalist who is currently obsessed with the pieces of the story. He's finding connections with Will and the other character's story lines.
Will and Mike have a long talk after Will experiences a significant vision. Will has been drawing many images of the shadow monster, too. We see a new one in his room.
Will sits at a table covered in photographs of Will's drawings. He's wearing a hospital gown, and it could be that he's been taken to town to discover what's wrong with him.
Will is under observation at the Hawkins facility. He talks to Dr. Owens, who has taken over the facility. Will tells the doctor that Eleven would understand everything.
Strange holes are opening unexpectedly into the Upside Down; which makes us wonder if the dimension is spreading increasingly into our world, or if more creatures from the Upside Down are emerging.
Scenes of bright lights, odd shapes, and slimy tentacles growing larger in laboratory beacons and elsewhere appear.
Lucas declares that "It's judgement day."
Perhaps all the characters will team up to fight against the evil forces surrounding the shadow monster, and the nefarious doings at the Hawkins facility. Perhaps Eleven has gained more power to fight against the supernatural evils. Perhaps the world will end. Who knows? The only thing we know for certain is just what police chief Hopper said: "It's happening again."
Save