Madelyn Renee Cline is an American actress and model. She is known for featuring in the Netflix series Outer Banks where she played as Sarah Cameron; a role many regarded as her breakout role. In 2022 she starred in the mystery comedy Glass Onion: A Knives Out Mystery.
Cline has also modelled for big names such as Toys "R" Us, American Eagle, Stella McCartney, and Versace. In 2023, she became a brand ambassador for Tommy Hilfiger. In 2020, Cline announced she was in a relationship with her Outer Banks co-star Chase Stokes. The relationship lasted for over a year. Since their breakup, she has been linked to a number of stars including Jackson Guthy, Zack Bia, and Ross Butler.
Madelyn Cline's Relationship With Chase Stokes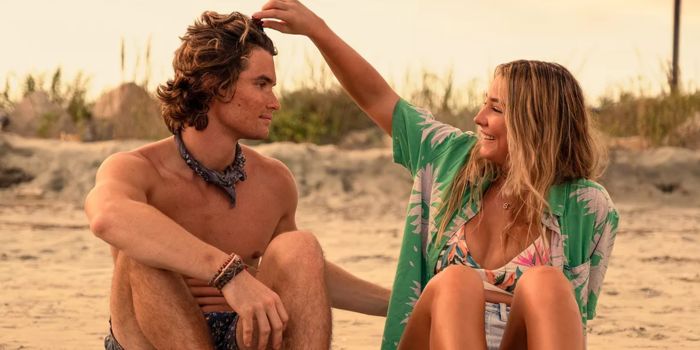 Madelyn Cline and Chase Stokes were costars on the Netflix teen drama, Outer Banks. Chase Stokes is an American actor. He played as John B in Outer Banks. We saw the costars fall in love with each other in the first season of the series. However, before getting their roles in Outer Banks, Cline and Stokes both played minor roles in Netflix's Stranger Things. Stokes had a quick scene in season 1 and Cline had a brief appearance in season 2. But they didn't actually meet until April 2019, right before Outer Banks' first season started shooting.
By the time the show started streaming on Netflix in April 2020, viewers couldn't help but notice the chemistry between Madelyn and Stokes. This sparked rumours of an off-screen relationship, They also left hints when they started leaving flirty comments on each other's social media pages. In June 2020, Stokes made his relationship with Cline official when he shared photos on Instagram of them picnicking at a beach. He captioned the post, "Cats outta the bag". Their Outer Banks costar Jonathan Daviss also commented on the post saying, "Well it's about time." The pair also quarantined together during the pandemic, along with costars Drew Starkey and Rudy Pankow. In September 2020, Stokes and Cline starred in the music video for Kygo and Donna Summer's single "Hot Stuff". The couple made their red carpet debut in May 2021 at the MTV Movie & TV Awards. After more than a year together, in October 2021, the couple announced that they had broken up.
Madelyn Cline's Relationship With Jackson Guthy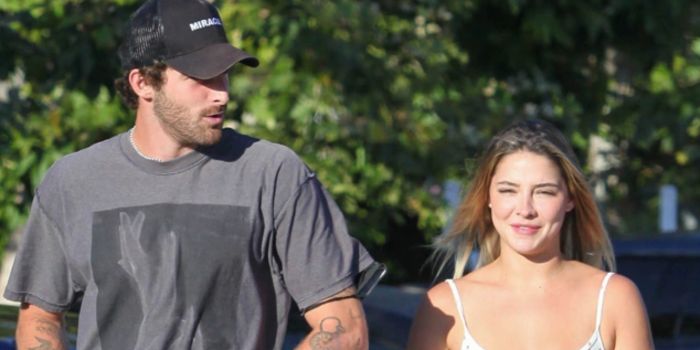 Amidst the speculations about her and Chase Stokes' breakup fans wondered if there was something romantic going on between her and actor Ross Butler. In September 2021 a video was released of them dancing at a restaurant in Milan, Italy, while they were both attending Milan Fashion Week. In November 2021, Ross cleared the air stating that they were just friends. More speculations about Cline's new love life brewed as she and DJ and co-founder of the record label Field Trip Recordings, Zack Bia were photographed on a date together at Giorgio Baldi in Santa Monica, California few days before her 24th birthday.
However, Bia responded to rumours about them dating in an interview on the BFFs With Dave Portnoy and Josh Richards podcast in January 2022 saying that they are not dating and they just hang out all the time. In 2022, another Madelyn Cline romance rumor began between her and Jackson Guthy. Jackson Guthy is the lead singer of the band North of Nine. The two were first linked in July 2022 after they were photographed on a date together in Malibu, California. In December 2022, during an interview with The Cut, it was reported that Cline lived in a Malibu home she shares with her boyfriend and dogs.
The same month Guthy also confirmed the relationship in a photo he posted on his Instagram Story of him and Cline for her 25th birthday. On February 2023, Cline revealed in an interview with Cosmopolitan, that she has truly never been happier, and feels very, very empowered, She also confirmed that she was happily taken and felt incredibly happy in her relationship. That same month, Guthy and Cline and spotted kissing and cuddling at an afterparty celebrating season 3 of Outer Banks.
How Madelyn Cline's Love Life Has Influenced Her Career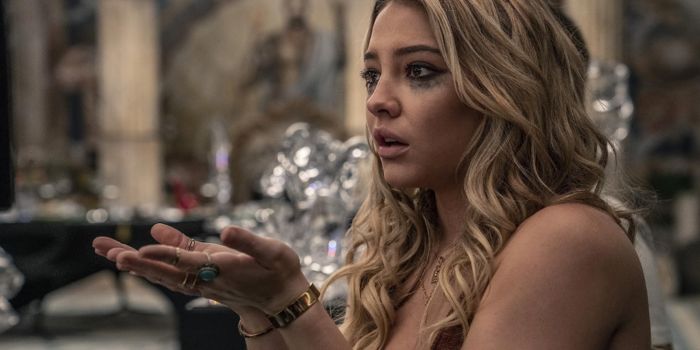 Madelyn Cline's love life have had little to no impact on her career over the years. However, one relationship in particular seemed to influence her career more than others. The romance between her and Chase Stokes began when they starred in Outer Banks. The two were quarantining together during the pandemic, which only brought them closer on and off the screen.
Although their off-screen romance was still unconfirmed at the time, Cline stated that she and Stokes added their own little touches to the Outer Banks script to make Sarah and John B's romance feel more authentic. She mentioned that the things that she and Stokes specifically added to the script felt personal. In February 2023, Stokes told Entertainment Weekly what it was like to shoot season 3 of Outer Banks following their breakup. He stated that he and Cline made a promise to each other before they even started dating that work was always going to come first and that no matter what happens in their personal lives, they are always going to honour the work.