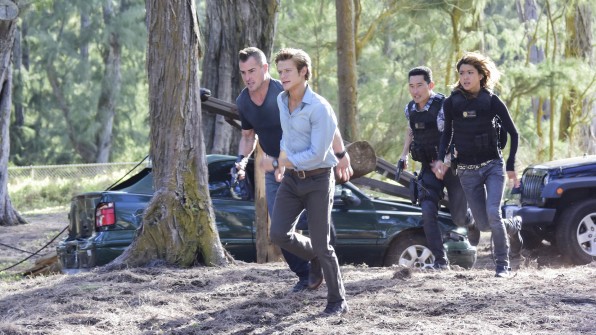 Don't let the scenery of this week's episode of MacGyver fool you. We're still with the Phoenix Foundation, they just made a slight detour on the way home. In setting foot on Hawaiian soil MacGyver and crew got the chance to interact with members of the Five-0 task force. The connection between the two shows was established earlier in Hawaii Five-0's seventh season when Commander Steve McGarrett requested information on a suspect from Jack Dalton. This was done much in the same way that Hawaii Five-0 first crossed over with NCIS: Los Angeles some years ago, so we're all in one cohesive universe of crime fighters. Blending Hawaiian hospitality with some crazy tech and a few bullets makes for a nice ride!
Halfway home from a mission, Riley, Bozer, Jack, and MacGyver are rerouted to Hawaii when a 7.2 magnitude earthquake hits Hilo. Once on the ground they make themselves useful. Riley sets to work getting tech back up for the EMS responders, Bozer puts his first aid to good use, and Jack and MacGyver aid in some good old-fashioned search and rescue. Bozer becomes jealous of Riley's flirtations with another cute tech, but personally I'd take the guy who put a splint on a dog's broken leg any day. Plus hanging back gave Bozer the chance to meet another Five-0 favorite, Kamekona.
Jack and MacGyver meet Hawaii Five-0's Chin Ho Kelly and his cousin Officer Kono Kalakaua at the site of a hotel collapse. Chin and Kono are pleasantly surprised by MacGyver's skills, though raise their eyebrows over their new friends's jobs at the 'think tank'. Everyone gets to know each other pretty well through the rescue, and even more so when the mission turns into a capture of Chinese Intelligence agents taking advantage of the earthquake to steal something classified scientists were working on in the building. MacGyver rescues the scientists buried in the rubble while Jack faces some intense firepower before the Chinese agents repel from the building with their steal. A nice amount of bonding goes on between the foursome. They may come from different environments, but everyone likes to do the "get to know you's" over comms while saving the world. Jack, MacGyver, Chin, and Kono chase after the spies and their stolen smart bullets, and at one point MacGyver has to purposely put himself in a bullet's path to take down the spies.
Bonding over bullets and Steve McGarrett's at times crybaby attitude inspires MacGyver's attitude. Up until this point our favorite geeky spy has been avoiding his birthday at all costs. Bozer informs Riley this is because MacGyver found out his father abandoned him on his 10th birthday. As an adult his birthdays don't have to be bad. Facing a bullet to the head gets through to MacGyver so that Jack can throw him a birthday party. A party with Kamekona's shrimp and a cake with an icing paperclip on it sounds like a perfect party to me!
Would you like to see more MacGyver and Hawaii Five-0 crossovers?