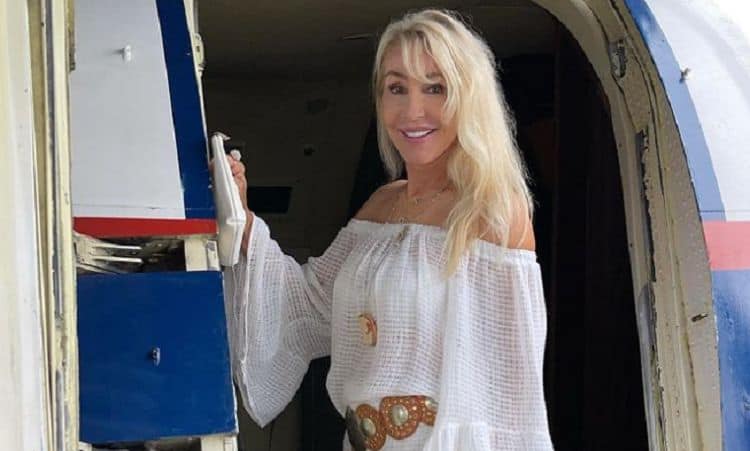 Linda Foster's face is one you've probably seen several times over the years. From the early 1970s to the early 1990s, Linda was an actress and she also became well-known for her marriage to Bruce (now Caitlyn) Jenner. In their marriage, Lina had two children, Brandon and Brody, who have since become reality TV stars. After her divorce from Jenner in 1986, Linda found love again and married Grammy Award-winning songwriter, composer, and musician, David Foster in 1991. Although that marriage also ended in divorce, Linda and David remain friends. But while Linda is best-known to many people for her famous husbands, there is much more to Linda than her past relationships. Keep reading for 10 things you didn't know about Linda Thompson.
1. She's Originally From Tennessee
Linda was born and raised in Memphis and she doesn't come from a family with a background in the entertainment industry. Although there was probably a time in her life where living a glamorous life in Los Angeles probably seemed nearly impossible, Linda is still very proud of her roots.
2. She Dated Elvis Pressley
Linda's marriages aren't the only high-profile relationships she's had. She also dated Elvis Pressley for four years and has always considered him to be the love of her life. Even though the couple parted ways, they remained close until his death. In an interview with Fox News, Linda said, "I still feel that and there's a raw spot in my heart when I see him or hear him sing. I have to stop what I'm doing and just remember the great love that we shared. That doesn't go away. That stays in the heart forever."
3. She's An Author
Linda has had a lot of interesting experiences over the years, and she finally decided she wanted to share them with the world. In 2016, Linda published a memoir titled A Little Thing Called Life: From Elvis's Graceland to Bruce Jenner's Caitlyn & Songs in Between. It has since become critically acclaimed.
4. She Studied At Memphis State
Some people may have thought there wasn't more to Linda than a pretty face, but that has never been true. Linda also has the brains to go along with it. She attended Memphis State University where she studied English and Drama. However, it's unclear whether or not she graduated.
5. She Has Written Some Well-Known Songs
Books aren't the only thing Linda has written over the years. She is also a very talented songwriter who has gotten the chance to work with some of the biggest names in the music industry. Some of her songwriting credits including "I Have Nothing" which was made famous by Whitney Houston and "Tell Him" performed by Celine Dion and Barbara Streisand. Linda has even been nominated for a Grammy Award.
6. She Loves Spending Time Outdoors
There are plenty of people who probably look at Linda and assume that she is the type of person who only enjoys expensive activities, but that isn't the case at all. The simple things have always been what means the most to Linda, and being outside is one of her favorite things to do. She loves doing things like hanging out at the beach and going on hikes.
7. She Was A Pageant Queen
During the late 1960s, Linda decided to get into the pageant world. She competed in and won the Miss Shelby County pageant in 1969, and she continued to work her way through the local pageant circuit before competing on the state level. In 1972, Linda was crowned Miss Tennessee-Universe.
8. She Won An Emmy
Linda has accomplished a lot of cool things over the years, and one of them is becoming an Emmy winner. In 2003, Linda won an Emmy Award for Outstanding Music and Lyrics for "Aren't They All Our Children" for "The Concert for World Children's Day". Linda has also been nominated for an Academy Award.
9. She's A Dog Mom
Everybody who knows anything about Linda knows that she's the proud mother of two sons, but those aren't her only kids. She's also a very proud pet parent to an adorable French bulldog named Willis. He makes lots of appearances on her Instagram profile and it's clear that they love doing everything together.
10. She's A Very Positive Person
Linda has been through a lot of ups and downs over the years, but she's never let anything keep her down for long. She is the kind of person who always looks at the bright side in life and this is something that many people have come to appreciate about her. Even social media followers who have never met her have commented on her positive attitude.
Tell us what's wrong with this post? How could we improve it? :)
Let us improve this post!