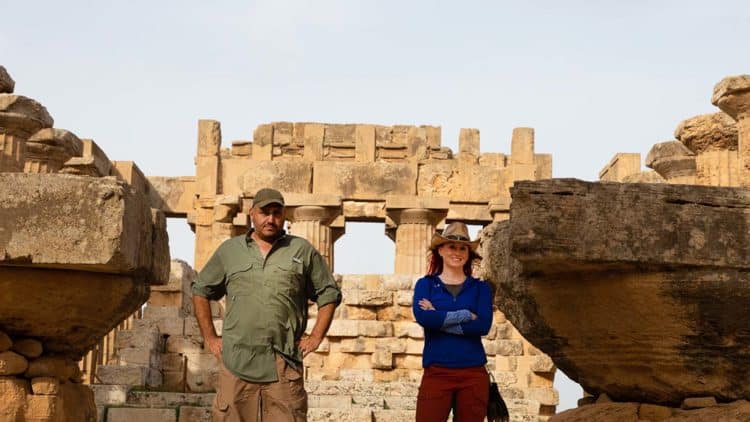 The story of the Lost City of Atlantis has been a mystery for thousands of years, but Stel Pavlou is hoping that he can help uncover the truth behind the city. As one of the stars of the new Discovery Channel series, Stel is excited to share his journey with the world. Not only does Steve want to confirm that the city actually existed in the first place, but his goal is to uncover exactly where it was located. Since the show is focused on discussing Atlantis, viewers won't get to learn much about Stel through the series. Fortunately, we've uncovered some interesting facts about him that provide more insight into who he is as a person. Keep reading to learn 10 things you didn't know about Stel Pavlou.
1. He Is Originally From England
Stel was born and raised in England, however, his father is originally from Greece. Stel is proud to have ties to both of those cultures. Stel attended the University of Liverpool where he studied American studies. He eventually relocated to the United States and he currently lives in Colorado.
2. He Is A Family Man
For the most part, Stel is a pretty private guy, but we do know that is happily married. We also know that he has at least one daughter, but it's unclear if he has any other children. Stel loves spending as much time with his family as he can and they enjoy a wide variety of activities.
3. His Interest In Atlantis Isn't Anything New
Some people may be wondering how Stel ended up working on a show about Atlantis. The answer is the legend of the city has always intrigued him, and he is responsible for coming up with "a groundbreaking new theory" that "is the first to place the Atlantis myth in an historical context using real-world data analysis."
4. He Was In The Military
Stel's journey towards getting where he is today has involved a lot of twists and turns, and he's thankful for every one of them. One of the pit stops he's made along the way included a brief stint in the military. Stel served in the Greek army for a year even though he doesn't speak Greek.
5. He Is A Star Wars Fan
Stel is a big fan of Star Wars, but that doesn't mean that he likes everything about the franchise. In a tweet, Stel said, "#Opinion #UnpopularOpinions I hate Ezra Bridger. I hate his name. I hate his stupid, punchable face. I hate his voice. I hate his irritating personality. Thank you for coming to my TED talk. #StarWars"
6. He Is Active On Social Media
Now that Stel is on the brink of becoming a reality star, there is going to be an increasing number of people who want to keep up with him. Those people will be happy to know that Stel is on social media. Stel is active on both Instagram and Twitter and he posts a variety of content on each platform.
7. He Is A Screenwriter
Stel is truly a Jack of all trades. He has done lots of impressive things over the years, including writing the 2001 movie Formula 51 which starred Samuel L. Jackson. Stel was working at a liquor store when he wrote the film. He also had a minor acting role although it was uncredited.
8. He Likes To Scuba Dive
As you may have been able to guess, Stel is an adventurous person and he loves trying new things. According to his bio on the Discovery Channel website, Stel "learned to scuba dive specifically for "Hunting Atlantis" and has now dived on numerous classical, bronze age, and chalcolithic sites around Europe including the world famous Pavlopetri site in Greece."
9. He Is A Dodgers Fan
We aren't sure if Stel has ever been an athlete himself, but we do know that he's a sports fan. He seems to particularly enjoy baseball. Even though Stel lives in Colorado, he is a big fan of the Los Angeles Dodgers. Since he has some experience in the entertainment industry, there is a chance that he's lived in L.A. in the past.
10. He Has Spoken Out Against Racism
If you decide to follow Stel on social media, one thing you'll learn is that he isn't afraid to speak his mind. He is all about standing up for the things he believes in, and one of those things is fighting against racism. He has used his platform to show his support for ending discrimination as well as other issues.
Tell us what's wrong with this post? How could we improve it? :)
Let us improve this post!