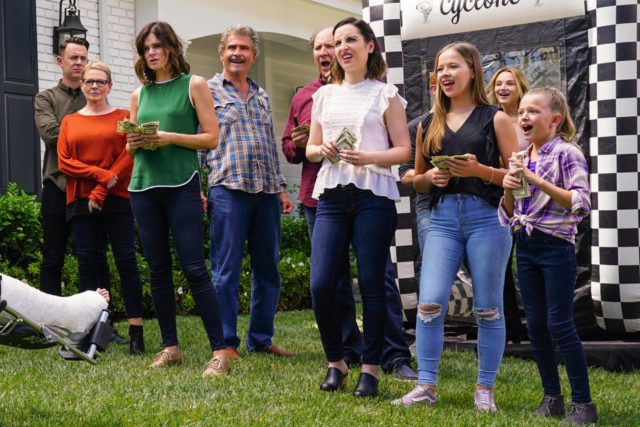 Life in Pieces is back with its third season which aired on November 2 and fans are up blazing with reviews and opinions. Anyone who has watched must admit CBS did a pretty job and the season is likely going to be one of the best in the history of the show. Slowly but surely this is becoming a favorite comedy show and it's satisfying to see how well it panned out in the premiere of the third season. If you have yet to catch up with the show, here is a comprehensive review highlighting the opening episode of season 3.
Accident settlement
The show starts with Matt and Colleen arguing for settlement for the accident that happened during their wedding night. After consideration, the motel compensates them a total sum of two million dollars. Matt calls a meeting with the entire family as a way to issue thanks for the support they have always offered him support. He is happy to note that they have always believed in him. He shows them the money grab and everyone is thrilled.
It is made up of several mini episodes, four to be specific, which knit to form the story being pursued centrally. The plot is also flowing consistently and after watching you can feel the smooth transition from the previous season as you are welcomed to the new events. It does not feel fragmented in any way.
Second, third and fourth stories
The second story highlights Greg and Jen who are looking for a pacifier for Lark. Greg manages to locate a pacifier and unfortunately at the same time, Jen also locates his ukulele. After they have out Lark to sleep, Greg and Jen are entangled in a mess where they have to find a solution to Lark's addiction to a pacifier. Greg offers a suggestion to the effect that it would work if they told her to give the pacifier to "Paci Fairy". When Lark wakes up, they try to convince her how it would be great if she gave the pacifier to Paci Fairy.
After the second story, the third story enters and this includes characters like Sophia and Tim. Sophia is driving when she is pulled over by a cop. She is questioned by Heather on why she did it and she explains that she was bored while at Joan and John's. Seeing this, John decided to punish her by sending her up the attic but the time he goes to look for her she is gone already. This is one of the best sections of the show as it involves a lot of interesting drama. The first three stories were amazing but I thought the last was a bit on the lower side.
What's in store for the future?
Episode two of Life in Pieces (Treasure Ride Poker Hearing) airs on November 9, 2017. In this episode, Greg and Jen are working hard to avoid embarrassment when they realize they cannot remember the name of the wife of Jenn's boss. Tim encourages Tyler to begin dating. After talking about kids with Colleen, Matt gets a nightmare about parenting and in the fourth story, Joan will get frustrated about staying with Heather.