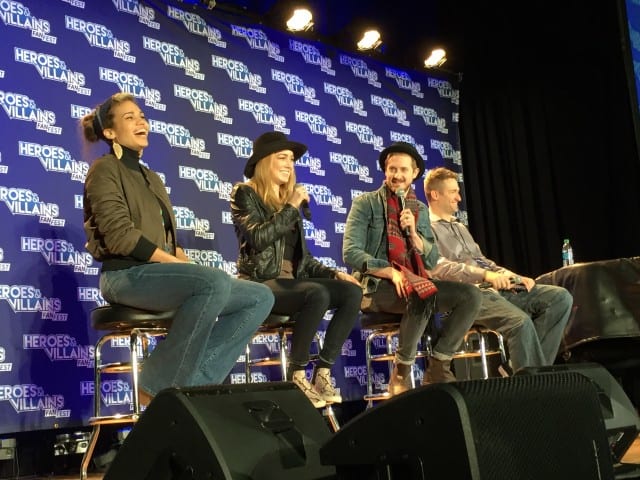 There's no new Legends of Tomorrow until next week, so we thought we'd provide some scoop on what to look forward to when the hit CW series returns. At a recent Heroes and Villains FanFest Convention in Chicago, the stars of Legends took the stage to talk about what it's like filming the latest DC comics show, their character's evolutions, and what's ahead when the series returns.
Series stars Caity Lotz (Sara Lance/White Canary), Ciara Renee (Kendra Saunders/Hawkgirl), and Arthur Darvill (Rip Hunter) came together on the first Legends of Tomorrow Panel at Heroes and Villains a few weeks back to the joy of their fans. They talked a lot about how their characters have progressed since the pilot. "He's got so many secrets, he tells so many lies, his quest is noble, but there's so much of him that acts so selfishly. The second part of the season he gets questioned quite a bit in regards to his motivation. [It is] really devastating for Rip to have messed up the timeline," said Darvill of his character's journey. Renee talked about having a "similar journey to Kendra's, going from stage to television, [and] being thrown into this medium and having to sink or swim." Given what a tough time Sara Lance had while on Arrow, she's just happy to have some fun!
As for what fans can definitively look forward to in upcoming episodes, the next few episodes really touch upon the separation of the team since the Waverider left Ray, Kendra, and Sara in the 1950s. "It's heartbreaking and scary for the three of them to get left behind" said the cast of being stuck in the 50s. When they finally do leave that time, there are issues to be dealt with in terms of Rip Hunter's leadership, Captain Cold coming to terms with leaving Heat Wave, and how the social issues they've addressed recently on the show (sexism and racism in the 50s) shift should the Waverider take a trip to the present or the future. On the positive side of things, Lotz teased a reunion of sorts with her character's former Arrow flame. "There should be some Nyssa and Sara interaction coming up" said Lotz, since the fans have been so vocal about wanting their characters to have closure. Everyone was tight-lipped about other future stories, although fans can expect a Western episode coming up soon!
In terms of what is possible in future episodes, with this show pretty much anything and everything is fair game. When asked if there was a possibility of Prince Kuku/Hawkman returning, the cast seemed hopeful. However they know that it would be up to the writers as to what capacity he would be brought back, either in flashbacks or in a reincarnated form, which would also depend on what time the team is actually in. Renee was very vocal about taking the ship to the 1930s since she is a big fan of Jazz music and has a musical background. One of the biggest ideas the cast got from fans during the panel was the idea of going to Earth-2, which exists on The Flash, and have a "Birds of Prey" storyline with the female superheroes. The one story which has been confirmed by CW President Mark Pedowitz is a three-way Arrow, The Flash, Legends of Tomorrow crossover to occur sometime next year since all three shows have been renewed for new seasons.
Which storyline do you think Legends should touch on next? Hit the Comments for Suggestions, and tune in when Legends of Tomorrow returns next week on the CW.