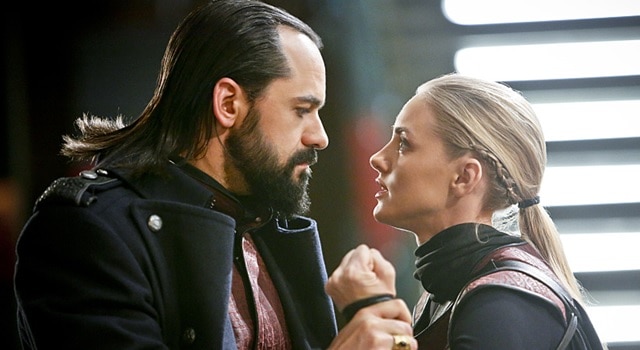 Legends of Tomorrow is starting to reach the end of its first season as this week's episode was a huge one for the team when they head to London of 2166 where things get tougher than they realized.
One of the few flaws that the first season of Legends of Tomorrow has suffered from is that we haven't really seen much of our big bad as Vandal's appearances are sort of in and out whenever he pops up. However this week we got a big dose of him and it was, as always whenever we see Vandal, twisted and fun in more ways than one. We also get to meet his daughter Cassandra, who was I hoping would turn out to be his daughter from the comics, Scandal Savage, as a nice surprise.
Although I guess I shouldn't have gotten my hopes up too much since Phil Klemmer confirmed earlier this year that we wouldn't see Scandal, at least not this year, but sometimes you never know with these shows. Cassandra's history was very brief so there wasn't much to get into, but it was neat that the team was actually able to convince her to listen to them about what her father had done in the past. I wouldn't be opposed to seeing her again in future seasons
As the big Hawkgirl fan that I'm from Justice League Unlimited, seeing Ciara Renée finally getting to kick some serious butt with a mace, may be one of my favorite moments of the entire season. We kept getting flashbacks with her and Carter, as well as some backstory on the importance of the mace which ended up being one of my favorite Kendra-flashbacks that we have had so far. While the battle against Vandal Savage has mostly been driven from Rip's side of things, we got to remember that Kendra has a war with him that has lasted for lifetimes. So this week, we really got a chance to see Hawkgirl go up against Vandal in a fair fight compared to their previous encounters as she has been growing stronger and also now gotten a hold of that mace which is one way to take him down.
I do not kid when I say that I could have watched those two fight for hours as long as the mace was involved. However, a major twist occurs when one of Vandal's soldiers crashes and Kendra discovers that it is none other than…Carter! I'll admit that the WonderCon sizzle reel kind of gave it away that this was how they would bring him back as we saw him chained up in what looked to be in the Waverider (guessing that it is from next week's episode). The aspect of Vandal corrupting and locking Carter's mind away so he wouldn't remember his past lives was something I didn't see come though, all I knew was that we would get some sort of twisted version of Carter. I'm literally dying to see how Ray reacts to that in next week's episode and how he takes it because boy, does he and Kendra not get a break or what in their relationship!
Let's talk about the Atom suit going all reverse on us this week as we got to see a giant-Atom as he took on the Leviathan soldier. Remember back in the proof-of-concept footage that featured the tease of a giant robot(s) possibly being involved with the show? I'm so glad that we finally got to see at least one giant-sized robot that looked, design-wise, really impressive. While I'm not sure if The Atom has ever gotten that big in the comics at any point, it wouldn't surprise me if he has, but I'm glad the show was able to pull it off. We have so far had a lot of impressive team fights, but not so many solo ones which is why I was very appreciative of what we got this week on Legends of Tomorrow.
As Kendra doesn't go through with killing Vandal due to what he has done to Carter and is the only one that can open his mind, the team takes him on board the Waverider as their only other option. The last scene at the end when he is just gloating and messing with Rip, was another one of those moments that I wish had gone on forever because of Casper Crump and Arthur Darvill's dynamic with one another.
Overall, "Leviathan" was one of my favorite episodes of the whole season as the plot progressed really well while also having some fun moments, whether it was Hawkgirl fighting Vandal with a mace to giant-Atom against Leviathan . Just three episodes left of Legends of Tomorrow Season 1 and knowing Vandal Savage, he is about to bring the trouble to the next level.
Legends of Tomorrow airs on Thursday nights at 8/7c on The CW.
[Photo: Bettina Strauss/The CW]
Summary
Rip Hunter and the team arrives in London 2166 to take on Vandal Savage who has a big surprise for them in this week's Legends of Tomorrow.