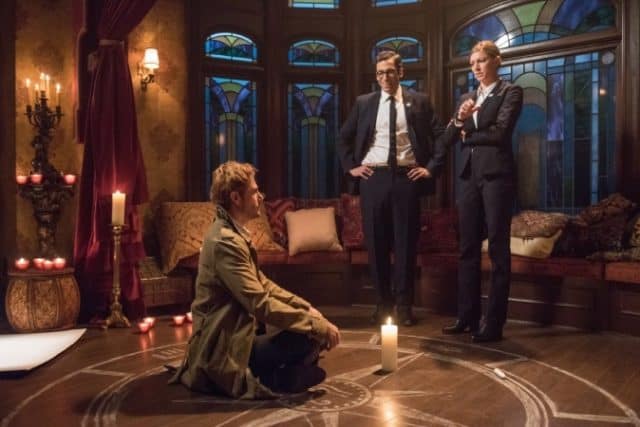 Sara becomes the bearer of the Death Totem as Mallus' powers resurface from within her. The rest of the Legends work to save her while Agent Sharpe acquires help from a certain warlock in this week's Legends of Tomorrow.
When Sara put on the Death Totem, I knew that it was the totem that she would bear. The girl has faced death and even caused it during her League of Assassin days. Who better than her to wield a totem that controls the dead? Although, when it brought Jesse as an apparition, it confused me. She's back on Earth 2; she's not dead like Nate's grandfather and Zari's brother! It would've been nice to see Laurel again, but we see enough of her on Arrow.
I kind of sweat-dropped during the scene where John Constantine (guest star Matt Ryan) chased a chicken around a room. Agent Sharpe and Gary went to a house in New York City to look for the demonologist when they came upon that particular scene. It turns out that the chicken is part of a ritual that would get the lady's son married. Whatever it is, I don't want to know.
After getting Constantine onboard the Waverider, I thought it would be the end of it. He would expel Mallus from Sara, and everything would be sunshine and rainbows. I apparently thought wrong after witnessing what happened. Evil Sara attacked Ray and the other Legends after locking down the ship. Though I have to give the guy props for trying to use Aken, the Egyptian ferryman for the dead, to get into Mallus' realm to save Sara.
Speaking of Agent Sharpe, I feel sorry for her when Sara ended their brief relationship. Although if the Time Bureau's director's past ever came to light, then it might be a possibility that their relationship would end anyway. I'm still curious to find out what it is. What in the name of DC Comics did you delete, Rip Hunter?!
Back to saving Sara, I all but applauded her for not giving into the temptation of joining up with the Darhks. Nora tried to convince Sara to embrace her past and let Mallus take control. I hope they know that evil never wins in the end. I mean, those historical figures tried to take control of whatever they were trying to control, but it never ends well for them.
In the end, Sara is saved from Mallus for the time being. Agent Sharpe managed to bring her back from Mallus' realm. Constantine takes his leave after having a drink with Sara. I have a feeling that we will be seeing a lot more of the demonologist in the near future while Mallus is still at large so to speak.
Final Thoughts:
Why does Constantine have a human foot? It's not like it's a lucky charm! That is not the same as a rabbit's foot, Constantine!
Mick staring blankly at his Fire Totem fireball while Constantine used it to light a cigarette. Hysterical!
Evil Sara's Killer Frost-ish look is incredible. Makes her look that much more kick-ass.
Sara calling Agent Sharpe her girlfriend. Aww…
"We're gonna need a bigger Med Bay." Nice shout-out to Jaws, show!
Gary getting all Dungeons and Dragons. Wow. Also, since when does John Constantine play D&D? I just hope that he doesn't summon any demons while playing.
Wally is officially scarred for life after he said to the team that Mick sleeps in the nude. Well, they did try to tell you, but you didn't listen!
It would have been nice to see Nate wield the Earth Totem. Would he get the powers of nature or maybe enhance his steel powers somehow? It's either that or get turned into a metal zombie.
Point of Confusion: the Mona Lisa painting is actually Da Vinci in drag? What?! Please tell me that's fake news!
Photo via The CW
Legends of Tomorrow Season 3 Episode 15 Review: "Necromancing the Stone"
Summary
Mallus' power over Sara resurfaces, making her the unwitting bearer of the Death Totem. Agent Sharpe acquires help from none other than John Constantine to save Sara in this week's episode of Legends of Tomorrow.