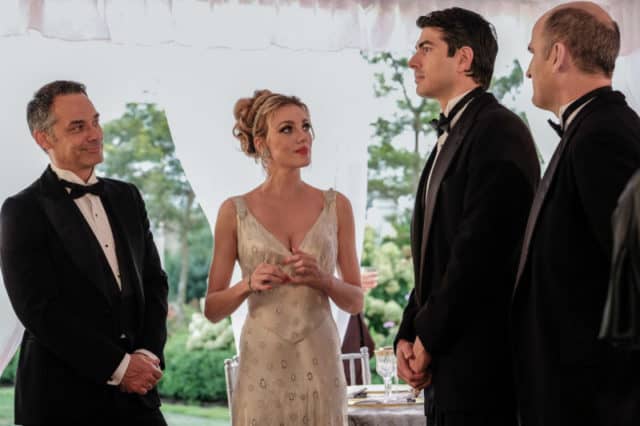 Hollywood. The place where those pursuing a career in the performing arts go to achieve their dreams. On tonight's episode of Legends of Tomorrow, the team goes to 1937 Hollywood to save it from an anachronism. Oh, and it's not just any time displacement or the actress Helen Hunt. It's Helen of Troy. Ray also tries to separate Firestorm but ended up with a Freaky Friday situation on his hands.
I all but laughed like Nate and Damien Darhk did when Jax became Professor Stein and vice versa. It was amusing to see the two of them act like the other. It's not every day that you can hear Jax talk with an air of sophistication and Professor Stein in a normal, street-smart tone of voice. Good thing they were able to switch back after they merged into Firestorm. Should have thought of that in the first place!
The team, on the other hand, went to Warner Brothers studios to take Helen (guest star Bar Paly from NCIS: Los Angeles) back to Troy. Their mission then got intercepted by none other than Damien Darhk. The latter negotiated with Sara, telling her and her team to go back to 2017 if they want to live. If I learned anything from watching crime dramas is that when you make a deal with villains, they always want something in return, and it's never good. I applauded Sara for not taking Darhk's offer and went on with the mission. Yay for White Canary!
History then sort of repeated itself at Warner Brothers as the men who worked there fought over Helen. It's not her fault per se; men will look for any excuse to start a conflict or war. No offence. Nevertheless, kudos to Sara, Zari, and Amaya for rescuing Helen as the two rival studios had themselves a shootout. Major kudos to Zari for hacking history and sent Helen to Themyscira in 1253 B.C to live with the Amazonian warrior women. Shame the island is fictional and mythological or else I would like to live on that island.
In the end, the Legends saved the day once again and Hedy got her acting contract back at Warner Brothers. Therefore the rest, as they say, is history.
Side Notes:
Hedy Lamarr is Professor Stein's Hall Pass. Intriguing. Furthermore, I also didn't know that Hedy is responsible for half of the technology used on the Waverider.
Is Nora/Mallus the kid from Arrow all grown up? Guess she decided to follow in Daddy's footsteps.
"I don't need magic to kill you." Ironic coming from Darhk seeing that Oliver Queen said the same thing before taking Darhk's life.
Kuasa turned out to be Mari's sister and Amaya's granddaughter. Did not see that one coming. Why is she working for Darhk when she can be a Legend?
"Let's go save Hollywood!" "Before the Kardashians destroy it." Best. Response. Ever. You, show, are the coolest!
Sara and Darhk fighting League of Assassins style. Epic. Love me a good sword fight.
Jax/Professor Stein and Mick both having to go to the bathroom. Hilarious! That and Nate gushing over Helen. Though that is more of an eye-roll/facepalm than a laugh.
Photo via The CW
Legends of Tomorrow Season 3 Episode 6 Review: "Helen Hunt"
Summary
Team Legends must return a time-displaced Helen of Troy back to the Bronze Age. They then get blindsided by none other than Damien Darhk. Professor Stein and Jax find themselves in a Freaky Friday-esque predicament on tonight's Legends of Tomorrow.