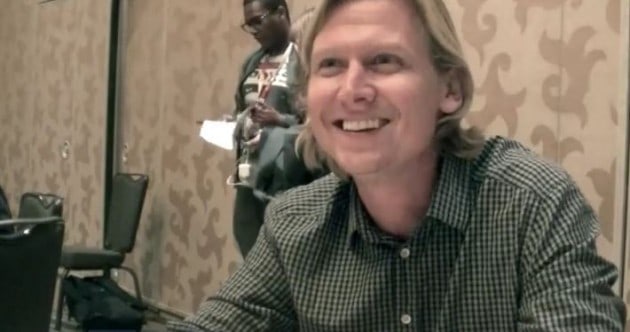 The CW/DC universe is continuing to expand its superhero franchise, and next year, the creative team behind Arrow and The Flash will be launching DCTV's first team-based series, DC's Legends of Tomorrow. In this new show, the time traveler Rip Hunter (Arthur Darvill) will bring together heroes like The Atom (Brandon Routh), Hawkgirl (Ciara Renée), White Canary (Caity Lotz), Firestorm (one half is Victor Garber's Martin Stein) and villains like Captain Cold (Wentworth Miller) and Heat Wave (Dominic Purcell) as they have to take down the villainous Vandal Savage. One of the talented people behind Legends of Tomorrow is showrunner and executive producer Phil Klemmer, who has worked on a number of great shows in the past, including Chuck, The Tomorrow People, and Veronica Mars, and is now bringing DC's Legends of Tomorrow to life with Greg Berlanti, Marc Guggenheim, and Andrew Kreisberg.
TVOvermind was fortunate enough to participate in the DC's Legends of Tomorrow Press Room at San Diego Comic-Con with other news outlets at roundtables where stars and producers from the show discussed what viewers can expect from the new show. Klemmer was one of the people we got to talk to, and you can watch his entire roundtable interview below. Here are some of the highlights:
When asked about the major mysteries like Jay Jackson (Franz Dremeh), Firestorm's other half, and Vandal Savage's casting: "Ah man, the talking points are so freaking limited. We don't [have an actor for Vandal Savage]. We do have somebody in mind that if we don't get I will surely be disappointed. But the thing with the show is that we have such an incredible ensemble that I almost don't want to take away from the eight that we have already cast. I think as we go episode by episode, we will kind of become our own worst enemies. We will have characters who will die. We will have characters who betray the team. We will have characters who are left behind in time. There will be the episodic bad guy week-to-week, but we will be focusing on the faces you already know, because God damn it, we got a great cast and to not use them to the fullest would be crazy.
"I will say he is probably the last person that Professor Stein wanted to share Firestorm with [on the subject of Jay Jackson]. Like I said, for me it's all about tension and inner-personal friction so this isn't a normal superhero story where everyone is on the same team, pushing the same direction. They are sort of turning on themselves and whether they can get along in order to save the world."
How this team is different from other teams in the DC Universe: "Not that our show is dark, though, in a weird way, I think this is going to be the most comedic of the Berlanti shows.  They are adults. I think Ray Palmer is hilarious. I think Leonard Snart, in his own ways, is hilarious. I think trying to force Victor Garber's Professor Stein onto a space ship with all these people…I wouldn't say it's like a sitcom. To me, it's like Ocean's 11, where you have this crazy team of people that shouldn't be working together except for their stated goals. The way things go wrong is to me the golden goal of the show. You are right–it's not goody-goody 'let's all save the world.' To me, there is a lightness to it in tone. There is a real fun and so much fun to write. I have worked on Chuck, Veronica Mars, and shows that have a real darkness to them, but they also got a sense of humor and some snarky wit. To me, that's how these characters set them ahead."
DC's Legends of Tomorrow is set to begin sometime during early mid-season of 2016 on The CW. Stay tuned for more roundtable videos of the cast and producers in the next few days right here at TVOvermind.
[Photo via YouTube]