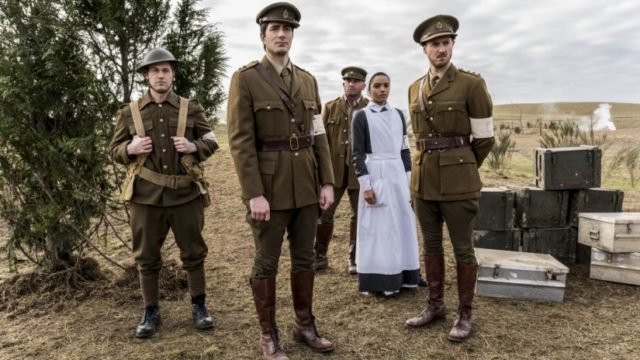 Tonight's episode of Legends of Tomorrow gets a Lord of the Rings twist. The team tries to find a way to destroy the Spear of Destiny. They must also resist the temptation to use the spear. That, and prevent the Legion of Doom from obtaining it. Oh, they also get to meet J.R.R. Tolkien in person.
I so loved the scene where Jax turned the obelisk that held the last spear fragment into a pile of jellybeans. It was also interesting to find out that Rip Hunter has a sweet tooth for said candies. I rolled my eyes in amusement when the former captain ate one from the pile. Stay awesome, show!
The most painful thing to watch, aside from Amaya's grim future, is the fact that the rest of the Legends don't fully trust Mick. They still view him as a thug who will one day betray them. I don't blame Heatwave for siding with the Legion, but it's still wrong of him to do so. Hopefully, there can be a way to bring the fire-loving lug back to Team Legends. Him and Captain Cold.
Speaking of Captain Cold, I had thought that he was another vision conjured up by Mick. It turns out, Eobard went back in time and got to Snart before he had the chance to become a Legend. Damn you, Damien Darhk! This has your name written all over it! It's times like this that I wish Oliver were here so he can end you again.
Back to the mission, the team managed to find the Blood of Christ before the Legion of Doom showed up. Rip's moving speech to get the British and the German soldiers to stop fighting was very well said and inspiring. Both he and Tolkien are right; violence never solves anything. It just creates tragedy and more violence. On the other hand, if there were no violence in the world, history itself would be quite boring. I'm not saying that I'm for all that blood and gore, I'm just saying that it spices up history a little. That and the countries that we know of today would cease to exist.
As the episode ended, we see Malcolm reciting a spell from the Karabros Script to activate the power of the Spear of Destiny. The question is: will it work?
Photo via The CW
Legends of Tomorrow Season 2 Episode 15 Review: "Fellowship of the Spear"
Summary
Team Legends travel to France during World War II to destroy the Spear of Destiny. Captain Cold convinces Mick to join the Legion of Doom in this Lord of the Rings-inspired episode of Legends of Tomorrow.