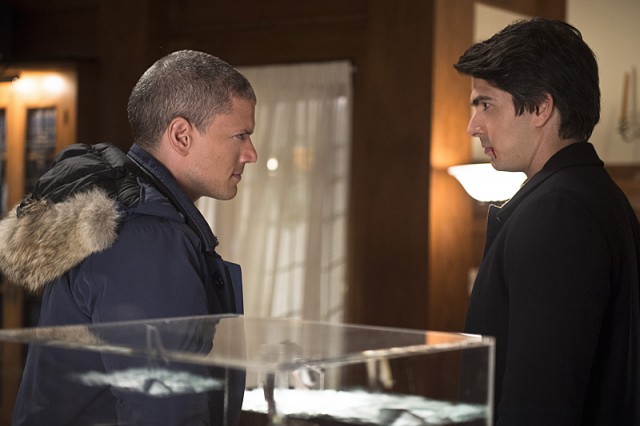 After a strong first part last week, the second part of Legends of Tomorrow's series premiere was an impressive follow-up as the Legends crew run into Martin Stein's younger self when a piece of Atom's suit accidentally falls off, which could cause major trouble for the future if it gets in the wrong hands.
I remember watching Back to the Future for the first time when Marty ran into younger versions of his parents, thinking "this is most hilarious interaction I have ever seen in a time-travel story". Turns out years later, it would be tied with what happens here as it was a blast to see younger Stein that was even more arrogant, cocky and snobby. What made the thing even funnier was that our Stein almost got a boost of seeing his younger self – what happens when you put two arrogant (but lovable) snobs in the same environment? You get this and it's something I will happily go back to re-watch over and over again.
I didn't bring it up last week, but something I had wished for CW to do for this series premiere, was a 2-hour airing of both these episodes. That feeling went away after seeing this episode and why? It was because of the tragic and unexpected death of Carter Hall. I will be honest: a part of me was expecting Hawkman to get killed off at some point, but not THIS early! This is just episode 2, people! Even though we know that he will be reincarnated, there is no way we will be able to see that within this season because, you know, the guy actually has to be born first and then grow up for many years.
A twist would be if a Hawkman from the future, already grown up and aware of his memories, somehow showed up and joined the group again. I was mostly disappointed with his death because of the great bonding that he and Kendra had in this episode. But the point of Vandal Savage is that he is ruthless so if you aren't careful, you can end up dead. I doubt it's the last we have seen of Falk Hentschel this season, but I'm not so sure if we will see Carter again, at least not for the next few weeks. Also, how heartbreaking was it to see Kendra cry over Carter's death?
Something I really enjoyed too about the episode was the banter between Captain Cold and The Atom as they were trying to steal back Kendra's dagger from her first life. The moment they both got caught in that cage (who knew that time period even had advanced security systems like that), I knew we would get some deep stuff between the two of them as the hero and villain get to compare their backgrounds and actually connect. That's what I look forward to with this show: not just all the awesome action, time travel, time periods, but also the character moments when these individuals have their banters and heart-to-hearts.
Overall, aside from my mixed reactions to Hawkman's death, "Pilot: Part 2" served as an equally strong follow-up to part 1. The final scene when the Legends decides to keep fighting to stop Vandal, for Carter, was an inspiring moment that makes me stoked to see the growth in these characters in the episodes to come.
Legends of Tomorrow airs on Thursday nights, 8/7c on The CW.
[Photo: Diyah Perah/The CW]
Legends of Tomorrow Season 1 Episode 1 Review:
Summary
Martin Stein (Victor Garber) meets his younger self as the Legends continues their quest to stop Vandal Savage in Part 2 of the series premiere of Legends of Tomorrow.