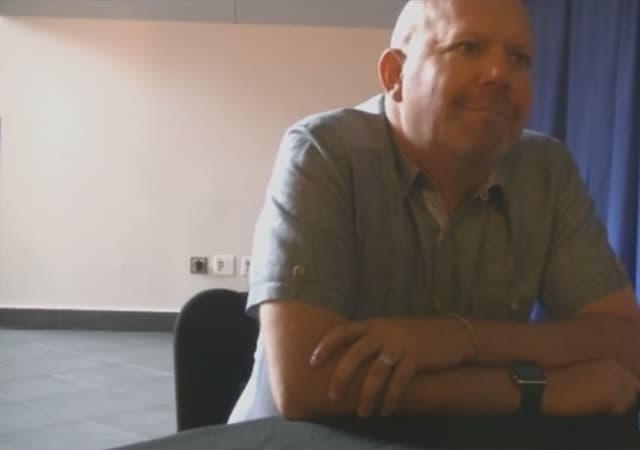 Tonight, DC's Legends of Tomorrow finally returns after its mini-hiatus as Sara Lance, Ray Palmer and Kendra Saunders got left behind in the 1950s after Chronos attacked Rip Hunter and the rest of the team on the Waverider. Last weekend, TV Overmind was fortune enough to participate in the DC's Legends of Tomorrow press room last weekend with other news outlets at roundtables where stars and producers from the show discussed what viewers can look forward to in the second half of the season.
Marc Guggenheim, who is an executive producer and show-runner on both Arrow and DC's Legends of Tomorrow, was there to preview what is coming up for our time traveling legends in the second half of the season. Here are some of the topics he discussed:
-Whether or not we will be visiting Future Central City.
-Jonah Hex's interaction with Rip Hunter in episode 11.
-If the Waverider can travel through different dimensions and if we will ever see it in an episode.
-How the cast may or may not look the same for Season 2
[youtube https://www.youtube.com/watch?v=iJk5_b3iJNA]
Don't miss the 9th episode titled "Left Behind" which airs tonight at 8/7c on The CW.
"SARA RETURNS TO THE LEAGUE OF ASSASSINS — Ray (Brandon Routh), Sara (Caity Lotz) and Kendra (Ciara Renée) are shocked after they watch the Waverider fly off without them, leaving them stranded in the '50s. After waiting months for their teammates to come back, the three realize they must move on with their lives. Ray and Kendra bond as a couple but Sara decides to return to the League of Assassins and Ra's al Ghul (guest star Matt Nable). John Showalter directed the episode written by Beth Schwartz & Grainne Godfree (LEG109). Original airdate 3/31/2016."