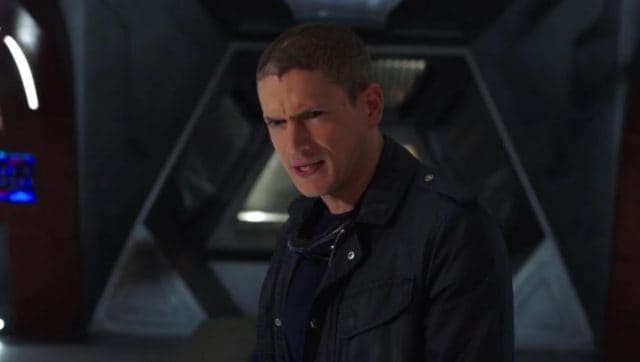 At the end of last week's episode of Legends of Tomorrow, the team found themselves in their most problematic situation yet. After Rip had insisted on bringing Vandal Savage in to face the justice of the Time Lords, it was revealed that the council had actually been working with Savage this entire time. Not only was Savage set free, but Rip and most of the members of the team were captured and imprison by the Time Lords.
Fortunately, two members of the Legends of Tomorrow crew, Sara and Snart, were able to pull a Han Solo move and hide beneath the floorboards on the ship, ensuring that they wouldn't be found by the Time Lords. So, in tonight's all-new episode, titled "Destiny," their main goal is to break their friends out their cells and save their lives, right? Not necessarily.
Even though Snart has definitely showed more affection for the rest of his team members in recent weeks (look at how he's treated Ray, or even in last week's episode, Jax), the sneak peek video below makes it quite clear that his mentality hasn't actually changed all that much. With such an overwhelming enemy facing him and Sara and the fact that they just narrowly escaped, he's insistent that the two of them take The Waverider (since Sara proved that she could fly it in last week's episode) and leave the rest of the team behind. However, as expected, Sara isn't a big fan of that plan.
How will Snart and Sara rescue their friends? Will everyone make it out alive? And will the team finally be able to defeat Savage after so many attempts? We'll have to wait and see how it all unfolds in tonight's episode.
Legends of Tomorrow airs Thursdays at 8 p.m. on The CW. Check out the sneak peek from "Destiny" below:
CAPTURED — Being in the vicinity of the Time Masters leaves Rip (Arthur Darvill) and Rory (Dominic Purcell) incredibly disturbed for very different reasons. Meanwhile, Sara (Caity Lotz) takes over the Waverider, Kendra (Ciara Renée) is reunited with Carter (guest star Falk Hentschel) and Snart (Wentworth Miller) decides he might be a hero after all. Olatunde Osunsanmi directed the episode with story by Marc Guggenheim and teleplay by Phil Klemmer & Chris Fedak.
[Photo via YouTube]