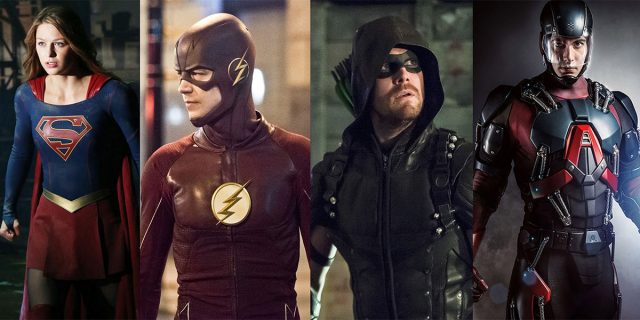 Just when you think that a superhero crossover couldn't get more exciting, it just did. DC superhero shows Arrow, The Flash, DC's Legends of Tomorrow, and Supergirl will premiere starting next week. All shows will focus on their individual stories before the highly anticipated 4-way crossover in December. Filming of the crossover began this week with Arrow's 100th episode. Details about how, when, what time, what universe, and such, are being kept tightly under wraps save for a few teasing snapshots on social media. In anticipation of the mind-boggling TV event, The CW App released a new version of last year's hypothetical 'Superhero Fight Club' with the stars of all four shows.
'Superhero Fight Club 2.0′ features a majority of the superheros from all four shows in one place. The titular fighters team up in the ring while Felicity, Diggle, Cisco, and Hank Henshaw/J'onn J'onzz watch with amusement. The great thing about this preview is that it gives fans a chance to see the heroes' initial reactions to each other, particularly the arrival of Supergirl and J'onn J'onzz. If you think that Diggle's reaction to Barry's powers was priceless, just wait till you see how he reacts to J'onn J'onzz! The heroes prove they're unbeatable together, that is until Cisco reveals a particularly formidable opponent.
https://www.youtube.com/watch?v=1h499TXghFo
Arrow, The Flash, Supergirl, and DC's Legends of Tomorrow premiere next week on the CW.