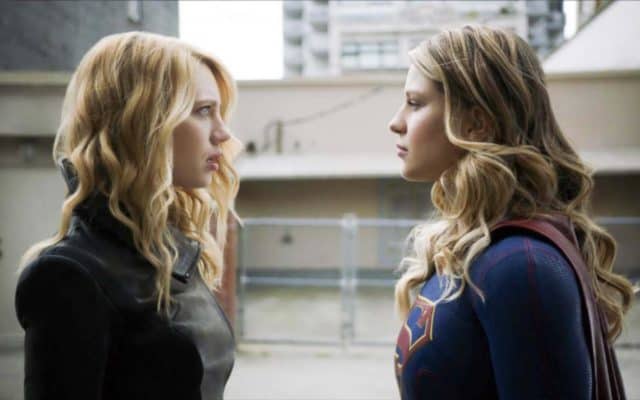 Last night's episode of Supergirl continued to dive into the show's themes of grief and struggle that were presented in the premiere. Mainly, the idea that Kara is really struggling to handle her decision to send Mon-El off, and essentially send him to his death. The idea that Kara finally has to deal with a true sense of grief and losing someone based on a decision she made is a nice way to change up how viewer's have seen the character; however, "Triggers," continues to expand on that idea and even reveal that other main characters might run into similar problems.
The biggest hint towards future problems was surrounding Alex and Maggie, who continue navigate the road to their wedding. The episode doesn't necessarily focus on the couple, but there are clear moments that seem to point towards the breakup of Sanvers. While the couple is a fantastic pair, it has always felt as though they have never been on the same page. Between their opening fight about band vs. DJ and the ending reveal that Maggie might not want kids, it seems like there is going to be a rough time ahead for Alex. Yet, Supergirl does a nice job of showing just how much the sisters truly help one another.
"Triggers," continued to dive into how much Kara is still struggling with the loss of Mon-El. While Kara has been able to gather her courage enough to stop being completely anti-social, she clearly still blames herself for her decision to send Mon-El off into space. The episode forces Kara to re-live her largest fear of when her parents shot her off into space, which causes her to feel like she did the same thing to Mon-El. The character begins having breakdowns and struggles to accept that something can scare her so much. Yet, this is where the show does a really nice job with the episode, and while it's not the most exciting, it shows off the strength of the Danvers sister's relationship.
Alex is there for Kara more than anyone else on Supergirl, because she recognizes when her sister needs her the most. Kara refuses to let people in during this episode even though they just want to help, but Alex is the one who can rationalize with her and break through Kara's denial. With the arrows pointing to her future breakup with Maggie, Kara will need to return the favor in a big way. This dynamic really carries "Triggers" though because the episode itself feels really slow and drawn out. The villain of the week, Psi, is relatively boring and has an anti-climactic arc for the episode. The actress in the role isn't bad, but it just feels like Psi becomes a plot device to address upcoming conflicts for the characters.
Overall though, Supergirl continues to get back on its feet with another solid episode. Every once in awhile these superhero television shows fall flat in the execution of their weekly villain, but that's okay. While Psi could have been executed a little smoother, the biggest takeaways from "Triggers," are that these characters are quickly falling into situations that they will try to conquer individually; but Supergirl has a great team of characters, and as long as they remember to lean on each other when necessary, they can conquer anything. The most important portion of this episode was the interactions between Kara and Alex, because they are the closest pair that Supergirl has, and going forward, they are going to need one another.
Other Thoughts:
– M'gann is back! In a pretty alarming way though… I'm excited that the Martians are going to receive their own plot!
– Having Sam takeover L-Corp for Lena is definitely an interesting decision. Knowing who the actress was cast as doesn't make this quite as shocking, but it should still be a really fun dynamic going forward if Kara gets to know her on a personal level.
– The conflict between Lena and James definitely seems like an interesting one. I'm not sure if I like it or not, because on one hand it feels pretty generic of an idea, but at the same time both are strong-minded and good at what they do. Lena is a business woman, James is a journalist, will they be able to find common ground though?
Supergirl S3E2 Review: "Triggers"