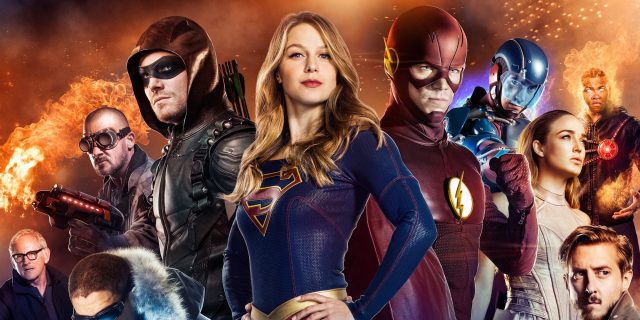 Significant character news broke regarding the Supergirl supporting cast. In Supergirl Season 3, Executive Producer Greg Berlanti wants to continue to tell the story of Alex Danvers and Maggie Sawyer. CW network President Mark Piedowitz supports Mon-El's return. And the full cast of Supergirl will take part in this year's Arrowverse crossover.
Alex and Maggie. "We'd love to have her [Floriana Lima playing Maggie Sawyer] back as much as possible," Mr Berlanti answered a question about Maggie's and Alex's couple arc on Supergirl. "We got into it wanting to tell the story of Alex because she was a lead on the show and no matter what, we want to continue exploring Alex's romantic life," Mr Berlanti continued.
So, the show will continue to tell the story of Alex's romance, having Maggie appear as often as they can. Considering how the writers' room underused Maggie last season, even if Ms Lima only comes back for half the episodes, they should still be able to develop Sanvers as much in Supergirl Season 3 as they did in Season 2. If Ms Lima appears in 10 to 13 episodes, Maggie wouldn't have any shows where she just stands in the DEO command center with little to do. Fans should see Maggie only for episodes with good scenes for Sanvers and substantive cooperation among the heroes and the police. Or, since Gotham City exists on Earth-Supergirl, perhaps Gotham PD will offer Maggie a leadership position in GPD's Science Division. Then fans would see her only for the Sanvers scenes when Maggie or Alex travels to see the other. In otherwords, all substance, no standing around the conference table.
Mr Berlanti left his comments about Ms Lima on a positive not. "I think [Floriana is] wonderful on the show, and she's got some real ardent fans, and she should," he said. "Of course we wanted more of her, but she's got … other things she wants to consider."
Mon-El. CW network President Mark Piedowitz confirmed Mon-El's return to Supergirl, "I am a big fan of Chris Wood [who plays Mon-El] and Melissa [Benoist who plays Supergirl], and they get along great. And you know what, it's the right way to tell a story." At least Mr Piedowitz gave us a little more than Mr Wood's comments at San Diego Comicon earlier in the summer. "He [Mon-El] is on a ship. And he's in space," was all Mr Wood said on the record. Knowing that network president is fan of the actors and their on-screen work together gives confidence that Supergirl will bring Mon-El back. Plus there's a cool story in it.
As Supergirl Season 2 drew to a close, series star Ms Benoist teased the Legion of Superheroes appearing. Fans had noticed a Legion flight ring perched among the trophies in the Fortress of Solitude in a couple of episodes and asked Ms Benoist about it. In the source material, the Legion of Superheroes is an interstellar, multi-species version of the Justice League — up in the 31st century. There's a comic storyline where the Legion recovers Mon-El in a distant space sector, while he suffers from lead poisoning. Legion members develop a cure and Mon-El joins their ranks as a superhero. Connecting the dots: Mon-El poisoned with lead, Mon-El in space, and an appearance of the Legion; it makes sense that the Legion would cure him.
Arrowverse Crossover. And lastly, Mr Piedowitz also promised a full four episode Arrowverse crossover. The CW chief said at Television Critics Association that the Arrowverse crossover will happen on 27th and 28th of November. Mr Piedowitz said the event will start with a full episode of Supergirl, followed by Arrow on 27 November. Crossover will conclude with Flash and Legends of Tomorrow on 28 November. The CW network president likened this year's Arrowverse crossover event to a miniseries, with two hours each night. Due to production scheduling, last year's crossover event started with just the last two minutes of Supergirl. Next, only the Maiden of Might world-hopped to Earth-1 for the following episodes of Flash, Arrow and Legends. Fans saw the full cast of Flash, Arrow and Legends with Supergirl in the crossover, but the Supergirl supporting cast was left out. This year, the main cast of all four shows will take part.