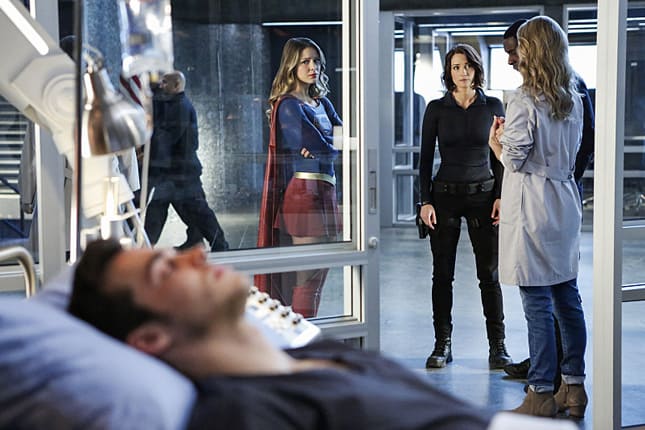 Last night's Supergirl was supposed to kick off the CW's four night DC TV crossover, and while it wasn't really a crossover, it was still another great standalone episode for the series. As the show heads into it's mid-season break, the finale really closed the things out in a great way and gave viewers a taste of what to expect when Supergirl returns next year. Supergirl has done something unlike the other DC TV shows, which is keeping things simple, and by managing to do that there hasn't been any clutter or over saturation on forced dialogue and plot lines. This show has felt natural the entire way, and while it's not perfect, it has been one of the most consistent shows each week.
"Medusa" acts as the Supergirl Thanksgiving episode and everyone wants to utilize the happiness of the family holiday to come clean about their secrets. James and Winn want to admit to their side vigilante work, Mon-El seems to have feelings for Kara and Alex is looking to inform her family of her recent personal discovery. While each of these is important, the episode chooses wisely and is very up front about the fact that Alex's confession is the most important. "Medusa" does a nice job of giving Eliza an actual reason to stay involved throughout the whole episode. It's nice to see Alex go through the motions of trying to get the words out and feel so conflicted about it but the eventual conversation between her and her mother is well-done and nicely executed by the actors. Eliza's response is that of a loving parent, which is exactly what is expected of someone who was unafraid to take in and raise an orphaned alien. This is where Supergirl excels though, ensuring that the show's moral foundation always holds true and avoids adding unnecessary drama. Alex's progression to understand what she's discovering is going to take time, but last night was a really nice display of how nerve-wracking this type of a situation truly is.
On top of this, the show takes time to explore another budding romance, possibly between Kara and Mon-El. Supergirl has been great in season two because it hasn't forced a love interest for Kara like the first season did. Although it's been nice to have her be a single character this season, the development of her relationship with Mon-El hasn't been rushed at all, and all last night's episode did was plant the seeds for the future. By episode's end both characters decide to avoid an awkward rejection from one another and ignore the kiss they shared. It seems like Mon-El clearly remembers, or at least has an idea that something is up, and Kara would rather bottle up her feelings than put their friendship into a weird position. The idea of Kara and Mon-El getting together feels pretty natural because they have plenty to relate to and are both the closest thing each other has to their home planets. While there should definitely be no rush to push these two together, the attraction makes sense and the decision to act like it never happened doesn't set anything in stone.
With Calista Flockhart departing from her regular role as Cat Grant, Supergirl has been filling her absence in with Lena Luthor. Being a Luthor, there has still been doubt surrounding the idea that the character might turn evil and follow in the footsteps of her family. With Lena's mother being the head of CADMUS, the stars seemed to be aligning even more for Lena; however, Supergirl has always kept her pure and positive, which "Medusa" does once again. Upon learning her mother could possibly be running an evil terrorist organization, it seems like she might join up with her mother, but going off of past episodes, this was clearly a set up. In the end, Lena continues to prove she is a good Luthor and that is a really unique character for the show to keep around. Lena has been a really awesome supporting character for Kara, who stays separate and out of contact (most of the time) from the other characters. Her relationship with Kara has been really refreshing and it's great to see them operate as friends whose relationship is only becoming stronger.
Supergirl has been absolutely killing it in season two and this first half of the season was really strong. The show keeps things simple and consistent while building up it's characters to be strong and have lots of depth. It's really fun to watch Cadmus incorporate these classic comic villains and introduce to the world that other people are getting their hands on all of this alien technology. Everything with Alex has been executed really well and the show does a nice job of avoiding dwelling on certain stories or drawing them out longer than necessary. It will be a long break without Supergirl each week, but at least viewers have three more episodes of the crossover to look forward to!
Other Thoughts:
*Absolutely loved the scene of Alex coming out to Eliza. It was just handled super well and then was followed up perfectly by showing Alex and Maggie talk as well.
*Cyborg Superman should be a lot of fun to have around.
*"4 night crossover" okay CW….. thanks for the bait with that one because having Barry and Cisco pop up for 30 seconds in this episode does not count as a crossover.
*Really hoping that Mon-El dons the black shirt/red S crest Superboy look eventually. It would be amazing to see Winn pumped to make another suit only to be destroyed when Mon-El says he doesn't want them or thinks they are dumb.