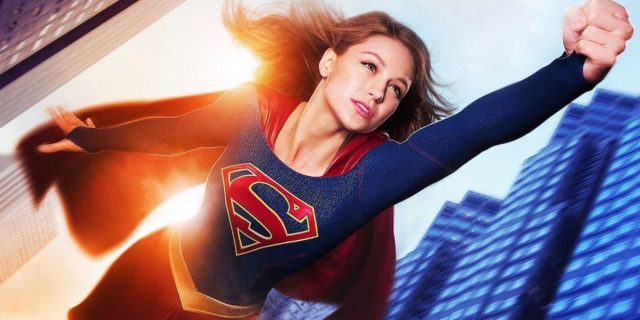 The Supergirl Season 2 finale has barely left the airwaves and already rumors and facts are flying about supporting cast members. Let's look at the Supergirl supporting cast, who returns for Season 3.
Calista Flockhart (Cat Grant). Many fans of Calista Flockhart and her outstanding performances as Cat Grant, media mogul and mentor, rejoiced to see her seated back at the CEO's desk in the Supergirl season finale. Fans thrilled to hear her say she knew Kara Danvers is Supergirl. But it doesn't appear that she will return as a series regular. We all know that Calista Flockhart puts her family first and pursues her career aggressively with starring roles in Los Angeles and supporting/recurring roles elsewhere. It is believed that she will return in a few episodes next season, but the producers and writers still have to break the arcs and the episodes and see where Ms Flockhart's schedule fits.
Tyler Hoechlin (Kal/Clark/Superman). When Tyler Hoechlin guest starred as Kal/Clark/Superman in Supergirl's two part Season 2 premier, fans and critics alike enjoyed his performance as the Man of Steel. For a while there, he outpaced the big screen Superman in popularity. So, we should all be confident that Kal-El will once again fly next Kara Zor-El on the small screen. Unfortunately, there's been some very negative press surrounding Mr Hoechlin recently, some of it regarding photos of him apparently in character as Superman. This writer believes that his fate will be decided at a level well above Executive Producer Greg Berlanti, above even CW network President Mark Pedowitz: in the boardroom of Warner Bros. Fans will surely see the Last Children of Krypton together again, but the studio may just recast the role of Krypton's Last Son.
Floriana Lima (Maggie Sawyer). Floriana Lima recently tweeted that her role as Maggie Sawyer was originally meant to last one season, but she'll gladly recur for the next. Producer Andrew Kreisberg said that Ms. Lima wants to pursue other opportunities and roles but he will welcome her back for several episodes. Perhaps Metropolis Police Department will offer Maggie the position the character had in comics and animation: Commander of the Special Crimes Unit.
And lastly, title star Melissa Benoist answered a question about the Legion of Superheroes. Ms. Benoist said that we'll see the Legion ring again soon, but she doesn't know when.
Save