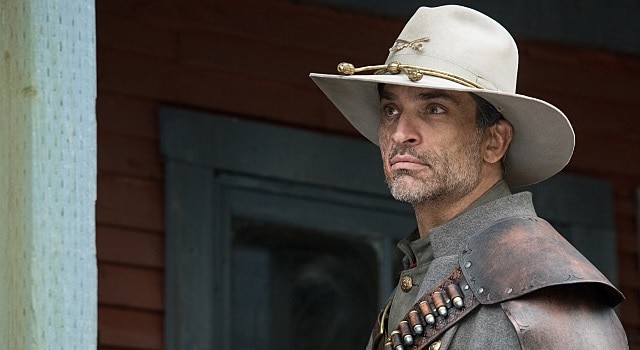 This week's Legends of Tomorrow took our time traveling legends to the Old West as we get fittingly introduced to DC Comics' anti-hero Jonah Hex.
Even though this is one of the more major and well-known characters from the DC Universe, I have never really encountered Jonah Hex that much in the books that I have read over the years. But hearing that the show would be making an episode set in the Wild West and using that as an opportunity to introduce that character onto the show, I was game. Despite that I have never really been into old western films that much, I had a feeling that Legends of Tomorrow could make it interesting for me because hey, if Back to the Future could, then why not the show? That is exactly what happened as it was a blast to see these characters in this setting and, honestly, some of them having their moment to geek out, like Ray.
As mentioned, while being new to Jonah Hex, Johnathon Schaech did a really cool job with introducing this character to – despite the time the character was from – fit into this established DC TV Universe that The CW has created. What better way to introduce him than as the guy who shut down the entire bar fight at the beginning? The only thing that was just mind-boggling to me was that Mick, the guy who is all about bar fights, was for once asleep while it was happening because he had too much to drink. The comedy writes itself whenever Mick gets into fights because, well, he is Mick, it's what he does. Also while on the subject of the Rogues: how does Snart manage to easily blend himself in with any time period that they travel to? It just seems that he has no problem settling in to wherever they go, which fascinates me.
While we got exposition on both Rip's last visit in this time period to which he had an emotional struggle with, along with his relationship with Hex, I felt there could have been more focus on that. There were a lot of things that I liked about Hex and one of them was the fact that he, despite him being an anti-hero, never came off as a villain or obstacle to our heroes. It was genuinely great to see a new character come in and just help the group out without there having to be a typical "misunderstood hero vs another misunderstood hero" scenario at first. He had rough great edges, but also had that enjoyable sassy and wit to himself. While I don't know if I necessary need a Jonah Hex spin-off series, I would have zero problems with him becoming a series regular for Season 2. In addition, how awesome would it be to see someone from another time period get to follow this group into other periods? Either way, I hope to see Schaech back sooner rather than later as Hex was a fun character.
I always appreciate when the women on shows like Legends of Tomorrow gets a chance to have some time for themselves as we saw Kendra and Sara on a personal mission. It was definitely a surprise that we met an older Kendra from that time period, although isn't there that rule about meeting yourself in the past or the future? I always have to remember that this show has made it very clear that they are establishing their own rules for time travel which I have no problem with. I really liked that we got to see the perspective from one of the previous Kendras and her view on being able to live life after life because of the curse that she and Carter are doomed to live with forever. I wasn't prepared for her whole thing about love being impossible, if the man wasn't Carter, but that gives our Kendra a compelling character struggle to deal with, by defying destinies and curses, which in the end might be something just strengthens her as a character. Either way, it was great that she had Sara to talk to about this as their bond gets stronger.
Other than fighting the Stillwater Gang (who featured Smallville's Brent Statit, who played Doctor Fate, as the leader), we saw Ray getting to have fun with being Salvation's Sherriff while Stein got to save the life of a young H.G. Wells, because, why not? While not everyone got something of this visit, it was great to see most of them individually getting something during this trip which can tricky sometimes with this many characters on your main cast. We get a compelling setup for the next episode as it is revealed that the Time Masters have sent The Pilgrim (who does exist in the DC Universe) to go after their younger selves in order to stop them once and for all, which will definitely be an episode to not miss.
Overall, "The Magnificent Eight" was a very solid episode and took the opportunity to use this week's period really well unlike last week when we actually went to the future. Hex was really well introduced and hopefully, like I said before, we will see him again soon enough.
Legends of Tomorrow airs on Thursday nights, 8/7c on The CW.
[Photo: Dean Buscher/The CW]
Summary
Rip and his legends travel to the Old West where we meet DC Comics' Jonah Hex in this week's episode of Legends of Tomorrow.