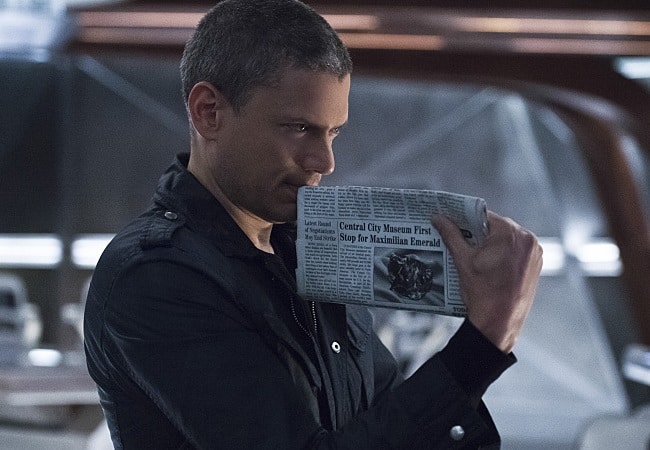 After last week's episode with the death of Hawkman, this week's episode of Legends of Tomorrow focuses heavily on Leonard Snart a.k.a. Captain Cold as he tries to change his childhood while Ray and Stein start to have a better understanding for one another. Along with that, Rip learns a valuable lesson about the importance of teamwork.
One of the aspects that I was always excited for with Legends of Tomorrow, was the different dynamics between this mixtures of characters. This episode really shuffled all of them into separate groups which were a lot of fun to watch, because some of these people never interacted on their brother shows. While they have neat comedic beats with each other, it's those deep character moments that always stand out at the end of the day. "Blood Ties had some of the best inner-character moments that we have seen so far, which is why the show works so well as it does. Aside from all the awesome action scenes, time travel and special effects.
Having seen some of his dramatic chops on Prison Break, it was sweet to see Wentworth Miller getting to go into Snart's skin and show a more compelling side to this twisted villain that we have seen through The Flash. While it's fun to see him and Mick just rob things and be the funniest villain dynamic I have ever seen: Miller gave a fine performance for this character as he tries to change his own childhood and make it better for his sister in the future. The scene where he is talking to his younger self about never letting someone get to your head or heart, was heartbreaking because
As Thea's blood lust got to a crucial point in this week's Arrow, over at Legends of Tomorrow, Sara now has to go through the same struggle that she went through after being put in the Lazarus Pit. Even though I knew this would follow her into this show, I'm still a bit curious to the problem's existence. Shouldn't the soul restoration that Constantine performed on Sara, have taken care of that problem? Either way, while Sara may not be able to get the Lotus that Nyssa is in possession of, I do find it intriguing how Sara will have to handle her blood lust while being a part of this team. Out all of the characters that Rip has gotten close to so far, his connection with Sara is the one that got to shine a lot this week.
However, on the subject of Rip, this episode had me a little annoyed with the character, despite that he comes back around at the end completely. For two weeks in a row, we had to see him bench so many of the teammates which made me question "what was then the point to bring them with you if you don't put them to use?" Mick's reaction at the start was completely understandable. Even if Rip was just trying to protect them after what happened to Carter, to always go solo won't get you closer to defeating Vandal Savage. But luckily, this episode puts him through that lesson and by the end, he finally learns what he should have known a long time ago: to let the team stand by you and for you to stand by the team, if that makes sense.
Overall, "Blood Ties" did a solid job in the emotions of the characters and letting them learn new things or new ways to look at themselves. Jax pointing out to Snart that while he wasn't able to successfully change the Snart family history, Snart is more than just a troubling criminal, he has a heart. That was a powerful moment in this episode because Captain Cold is supposed to have this complexity to his character like in the comics, so it was nice to see the show playing with that aspect. Stein's influence on Ray was also what made that character finally able to start putting his inner struggles aside which lead to him successfully save Kendra.
Legends of Tomorrow airs Thursday nights, 8/7c on The CW.
[Photo: Cate Cameron/The CW]
Legends of Tomorrow Season 1 Episode 3 Review:
Summary
Captain Cold's human side is explored in this week's episode of Legends of Tomorrow which also features Rip and Sara doing some inner soul searching.