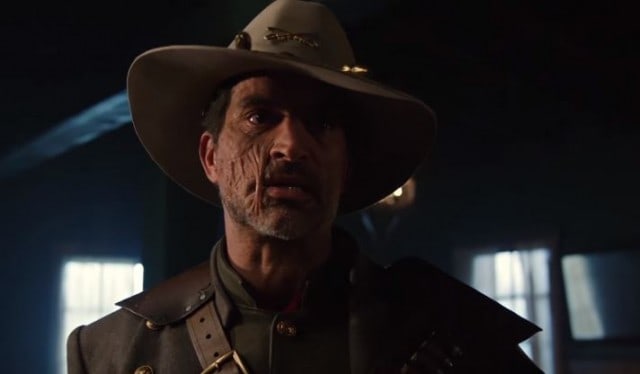 Legends of Tomorrow will be traveling to many different times and places during the back half of its first season. Not only will the team be traveling back to the Old West and also heading into the future that is the 22nd century, but we will also see Sara reunite with her old mentor, Ra's al Ghul, and perhaps even meet his daughter and the love of her life's sister, Talia.
Both Ra's and Talia are featured in the all-new trailer for Legends of Tomorrow, which hit the web last night, but they're not the only major DC Comics characters that can be found in the nearly three-minute video. Jonah Hex (played by Johnathon Schaech) also makes his debut in the latest Legends promo, and he will be facing off against Rip Hunter. Plus, familiar faces, such as Felicity and Nyssa, will also be showing up on the Arrow/Flash spin-off.
Additionally, it appears that a major storyline from the back half of Season 1 will be the Time Masters' drastic new plan to erase Sara, Ray, Snart, and the rest of the team from the timeline. The group will have to do everything they can to try and save the younger versions of themselves, and it looks like those efforts will most definitely involve some very entertaining flashbacks.
Legends of Tomorrow returns this Thursday with an all-new episode, titled "Left Behind." Check out The CW's official description for the hour below, along with the brand new trailer previewing the second half of the show's first season.
SARA RETURNS TO THE LEAGUE OF ASSASSINS — Ray (Brandon Routh), Sara (Caity Lotz) and Kendra (Ciara Renée) are shocked after they watch the Waverider fly off without them, leaving them stranded in the '50s. After waiting months for their teammates to come back, the three realize they must move on with their lives. Ray and Kendra bond as a couple but Sara decides to return to the League of Assassins and Ra's al Ghul (guest star Matt Nable). John Showalter directed the episode written by Beth Schwartz & Grainne Godfree.
[Photo via YouTube]