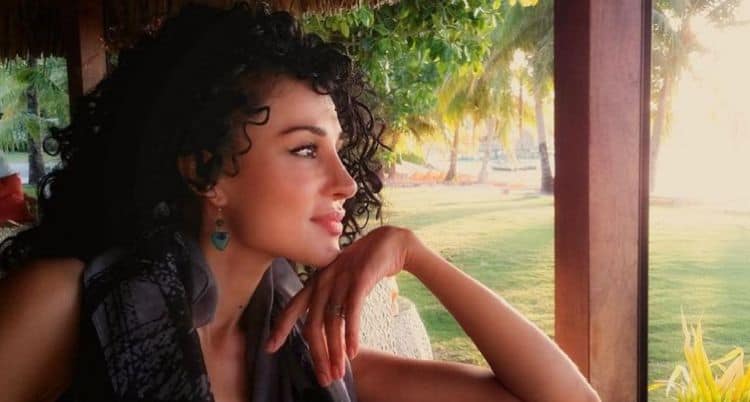 The first thing you notice about Layla Alizada is absolutely her gorgeous curly hair. She has those perfect ringlet curls not nearly enough women are gifted with at birth, and she is lovely. Aside from our marginal envy over her fabulous hair, however, Alizada is a successful actress, wife, and friend. She's been in the limelight for a long time, and nothing seems to slow her down. If you aren't familiar with her work – and you are, but you might need a reminder – she's someone worth getting to know a little better.
1. She's Canadian
She is a Canadian actress, but there's something you should know: She was not born in Canada. She's Canadian by way of Kabul. Yes, you read that correctly. She was born in Kabul, Afghanistan. She was born there on August 11, 1977. We don't know why she was born there, but we assume it might have something to do with a parent's job (don't quote us on that one).
2. She's Been Acting Her Entire Adult Life
Her career began at the tender age of 18, and she is someone who has made it work for more than two decades. Not many stars get to say that their career has been a go since day one of adulthood, but she can. That's what talent and a persistent nature do for you, though.
3. She Has Done Soaps
Something we love about her is the fact that she is, on top of everything else, a soap star. She's been in "Days of Our Lives". She had a four-episode guest role as a character with the name Kelly back in 2014, and she killed it. Daytime soaps are one of the best ways to get in the business, and she made certain to leave a mark.
4. She's Married
She began dating an actor named Noel Fisher in 2004 or 2005. They were happy together, and that led to their 2017 wedding following their 2014 engagement. They are currently living their married lives outside of the spotlight. They don't care to have their lives plastered all over the internet, and it's just good for them.
5. She Was Scouted
She was only a teen when she was found by an agent. They called it being scouted. She was 13 at the time, and we can tell you with absolutely no doubt that it worked well for her to have this happen. She's made such a success of her career, and there is nothing she regrets about her path – or, at least nothing she regrets seriously.
6. She Moved Around
While we still don't know if her move from Kabul to Canada was related to her parent's job or jobs, we do know that she left Kabul when she was so young she doesn't remember. She did, however, remember landing in many counties prior to moving for the last time to Canada and becoming a Canadian citizen.
7. She Wanted to Act at Five
It's her earliest memory of wanting to be an entertainer. A child was hurt and crying, and she wanted the child to stop crying, so she started acting out some different things and it worked. The child began to laugh, and she had an epiphany that she loved that.
8. She Loves Emotional Shifts
The entire concept of acting, for her, is the idea of being able to change the emotional nature of a human in the moment. The idea that what she is doing can make people feel some way rather than another is a powerful realization for her, and it was something that stuck with her.
9. She Was Shy
Believe it or not, this actress was not always outgoing. She was a rather shy child who wasn't all that into being the center of attention. However, she also loved to act and to perform, and that is such a fun combination. A shy child who finds passion and excitement on the stage is a rare combination.
10. She Offers Advice
One thing she's happy to do in her life is to offer some advice to anyone who aspires to do the same thing she is doing. She encourages future actresses and actors to have a good support system at home. She says it is the single most important thing – along with a litany of other great advice, of course – because it is an industry that is never level. It is both up and down, and you'll feel very high one day and low the next, and it is ever-changing.actress