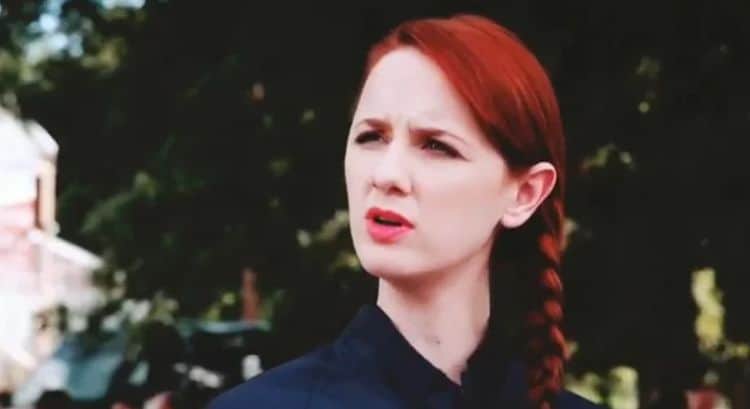 Laura Spencer started her professional acting career in 2009. Although things got off to somewhat of a slow start for her, she eventually found her footing and has become a consistent presence on our screens. Although she has also done quite a few movies, she is probably most widely known for her TV roles. Most notably, she played Emily Sweeney in The Big Bang Theory and Jessica Warren in Bones. Her ability to act across multiple genres has made her a valuable asset to the industry. Although it's been a couple of years since her last on-screen appearance, there are a lot of people out there who are excited to see what Laura does next. Keep reading to learn 10 things you didn't know about Laura Spencer.
1. She Is Originally From the Midwest
Growing up, Laura's life in middle America was about as far from the glamour of Hollywood as you can get. She was born and raised in the Oklahoma City area, but we weren't able to find any specific details about her upbringing. When she was ready to start her career, she decided to move to Los Angeles.
2. She Is A Dog Person
All of the dog lovers out there know that there's nothing quite as special as the bond between a human and their fur baby. This is something that Laura can definitely relate to. She has an adorable dog named Annie that she adopted in 2017. Annie has her own Instagram profile and she has more than 700 followers.
3. She Is Also a Writer and Producer
Acting is Annie's first love, and it's what she's devoted the bulk of her career to. However, it isn't the only part of the storytelling process that she likes to be a part of. She has also done some writing and producing. She made her production debut in 2013 with a short film called The Water's Fine and her writing debut in 2019 with a short film called Likeness.
4. She Is A Formally Trained Actress
It goes without saying that talent is always an important component of success. However, the truth is that hard work is what makes the ultimate difference. Laura managed to find the perfect balance between both. She attended the University of Oklahoma where she earned a bachelor of fine arts degree.
5. She Is Passionate About Human Rights
Plenty of people shy away from talking about certain things because they don't want to ruffle any feathers. That has never been Laura's style, though. She has made it very clear that she cares about human rights causes. Some of the things she's shown her support for include LGBTQ+ rights and women's rights.
6. She Is Happily Married
Laura has spent much of her adult life focusing on her career, but that doesn't mean that she hasn't made time to enjoy things in her personal life as well. Laura married Michael Jack Greenwald in 2019. She shared photos from the ceremony on her Twitter account. As far as we know, the couple doesn't have any children.
7. She Is a Fairly Private Person
Even though Laura announced her marriage on Twitter, she is actually a pretty private person overall. Throughout her career, she has avoided sharing many details about her personal life. Even in interviews, she likes to keep the conversations centered around her work as an actress.
8. She Likes Giving Back to Others
Laura has worked hard to get where she is today and has made it a point to do more with her platform than just entertain. She has also shown her support for charitable causes. In 2017, she raised money to help end human trafficking and raise awareness of the issue. She also encouraged her fans to donate what they could.
9. She Was in an Episode of 2 Broke Girls
In an industry where work is never guaranteed, Laura has managed to build a very solid career. She has been a part of lots of successful projects along the way. In 2011, she made a small appearance in an episode of the sitcom 2 Broke Girls which starred Beth Behrs and Kat Dennings. Even though Laura was only in one episode of the show, it was still a great opportunity for her.
10. She Enjoys Crime Content
Are you a fan of true crime? If so, you and Laura have something in common. In an interview with The Wrap, Laura said, "I enjoy watching crime dramas and reading creepy stories about serial killers and weird things…" Unfortunately, she didn't provide any specific details on which dramas and stories are her favorite.
Tell us what's wrong with this post? How could we improve it? :)
Let us improve this post!