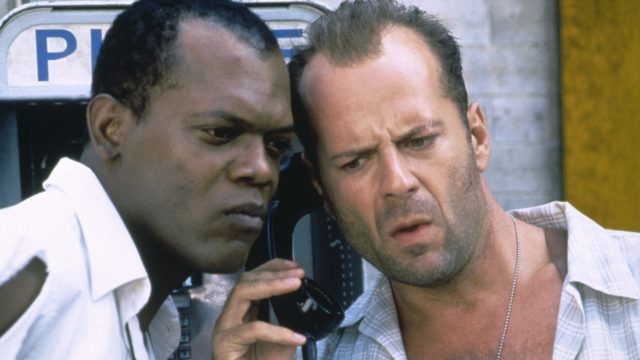 Die Hard 3 was originally going to be a Brandon Lee movie and it would have been titled Simon Says. That's kind of cool to think about instead of the ill-fated Die Hard 3 that was rolled out to continue the downward slide of a franchise that should have remained a single movie. That might sound harsh but really the idea of John McClane taking on even more terrorists than before was kind of hard to fathom since the guy is a New York City cop and not someone that was enlisted in any kind of special forces tactical squad. He's a burnout that has been trying to find his way through the last few movies and has been doing about as rough and tumble a job of it as he did in the first one.
The first movie was great, it was beyond believable but it was still awesome since no one had seen Bruce Willis do something like it before. But after that it should have just been left alone since the second and third installments had to keep bringing in extra stars just to make the movie go a little further. The movie would have been a lot better it seems if Brandon Lee had been able to take up the reins and begin what could have already been a legendary film career. Unfortunately as we all know that career was cut woefully short due to an accident on the set of The Crow, the movie he'd been shooting before he was set to come over and begin production on Simon Says.
Those who had watched Lee rise throughout his career to the point were confident that he would be a major star one day. He'd already done well playing opposite of Dolph Lundgren and had completed the movie Rapid Fire to the delight of many fans. It seemed that he was poised to take on the kind of fame that his father had enjoyed in his time and there was nothing stopping him. He was even proficient at martial arts and could perform many of his stunts on his own without needing a double. His star was shining brightly and was set to be something unique and wonderful, but then the tragedy happened and Simon Says was relegated to the lost files for a while.
It was only brought out when the studio wanted to do another Die Hard, but the story had to be changed a bit since the role of Zeus, that was played by Samuel L. Jackson, was originally a feminine role. There were several other changes that needed to be made as well, and Bruce Willis had to be convinced to come back and play the role of McClane since he had expressed no desire to take on the mantle once again.
Eventually though he was convinced and when the directors were switched the movie began, sans Lee unfortunately. It will remain a question as to whether or not he could have made more out of the movie that had been designed and written for him, or if he would have been more of a flash in the pan and easily discarded later on. With his role in The Crow I kind of doubt such a thing would have happened.