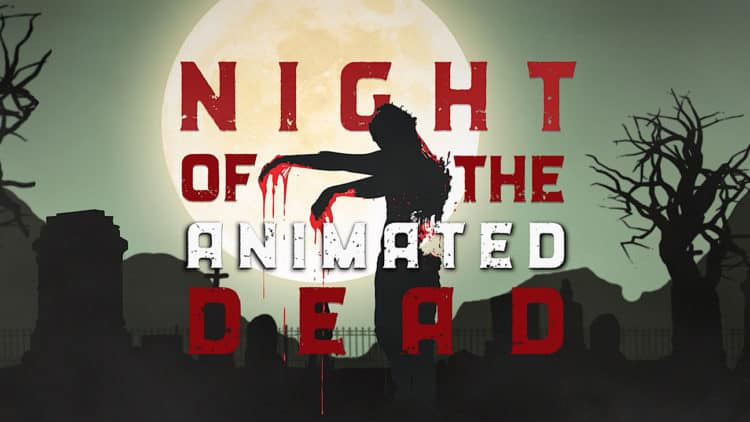 If you are a fan of mounting suspense, jump scares, sudden adrenaline spikes, then the horror movie genre is specially made for you. Thrilling and exciting was the 1968 low-budget independent horror film by George A. Romero, rest his soul, that told the story of a group of strangers forced to lock themselves up in a farmhouse. There was a legion of cannibalistic ghouls (George preferred to call them that) who were trying to break in and most definitely feed on them. Let me put aside the gory details for now. The zombie craze that came about after Night of the Living Dead left Romero with no choice but to continue producing five more zombie feature films. Some include Dawn of the Dead (1978), Day of the Dead (1985), and Land of the Dead (2005). After Romero died in 2017 and the release of this animated version of his film is just the perfect honor to his demise. Night of the Animated Dead is written by John A. Russo, where he tells the story in an animated form. Only this time, he decides to call a spade a spade and call the cannibalistic ghouls zombies.
Summary of The Film
The characters, Barbara and Johnny, embark on a journey to visit their father's grave in an isolated Pennsylvanian cemetery (sounds like a recipe for disaster if you ask me). They suddenly find themselves amid zombies. Barbara runs to a nearby farmhouse, where she gets trapped with a group of strangers as the zombies take over the property. Sounds nostalgic, right? This film has been made possible by the Warner Bros. Entertainment Company, best known for producing visionary and entertaining movies.
The Brilliant Crew
As stated above, the script was written by John A. Russo, a talented American scriptwriter famous for his co-writing role in the 1968 Night of the Living Dead. He worked closely with Romero, and his taking up this role is justified as he seems to know what George's visual interpretations would be like. The director of this film is Jason Axinn, well known for his animated horror film, To Your Last Death (2019). He brings with him experience in the genre as well as great direction for the film. Production has been done by Michael J. Luisi, Ralph E. Portillo, Robert Feldman, and Kevin Kasha. The executive production team consists of Richard Potter, Thomas DeFeo, and Jamie Elliot. Animated movies take a lot of work, especially in ensuring they don't look or sound 'plastic.' The voice actors brought on board, therefore, have the task of making it sound like the best-animated horror film. The editors and graphics department, in general, have an enormous task at hand to ensure we all don't feel like we are experiencing a zombie apocalypse as a result of poor quality.
Talented Voice Actors
The carefully selected cast of Night of the Animated Dead includes some of the best voice-over artists in the industry. They include:
Dule Hill as Ben
Katee Sackhoff as Judy
Josh Duhamel as Harry
Nancy Travis as Helen Cooper
Katharine Isabelle as Barbara
James Roday Rodrigues as Tom
Jimmi Simpson as Johnny
Will Sasso as Sheriff McClelland
Pulling off such acting is not a walk in the park, mainly because they have huge shoes to fill and very high expectations to meet.
Release Date
Fans of George A. Romero's work are itching with excitement. After disclosing the release dates, the internet went crazy with anticipating fans wanting to know what's in store for them. The digital version of Night of the Animated Dead will be released on September 21st, 2021. However, the Blu-ray and DVD versions come out later on October 5th, 2021, just in time for Halloween, America's favorite holiday. The latter's release includes a unique feature with diehard fans counting hours to its availability on the market. It will consist of a "Making of the Animated Dead." Here, fans will have the chance to join their favorite actors and actresses in the booth and see what it takes to make such a film. There is a word in the grapevine of another epic release of Romero's final unmade zombie project, Twilight of the Dead. This project is under the wings of Romero's wife, Suzanne Romero, who is working with capable scriptwriters; Paolo Zelati, Joe Knetter, and Robert L. Lucas. It seems no one is willing to see a great filmmaker's dream burn down to ashes. Romero is slowly rising from the dead through his works.
Parting Shot
George A. Romero's films tell more profound stories than what meets the eye. Using the horror film genre to point out the ills chewing at our society brings the message closer home and triggers a change in society. In addition, a good film is meant to spark and elicit positive change. Not only for America but also for the world! And those who understand this deeper perspective know too well how timely Night of the Animated Dead is. In as much as its entertainment value is number 1 on the list of expectations, fans are supposed to look at it from a different artistic point of view and, if possible, see it through Robert A. Romero's eyes.