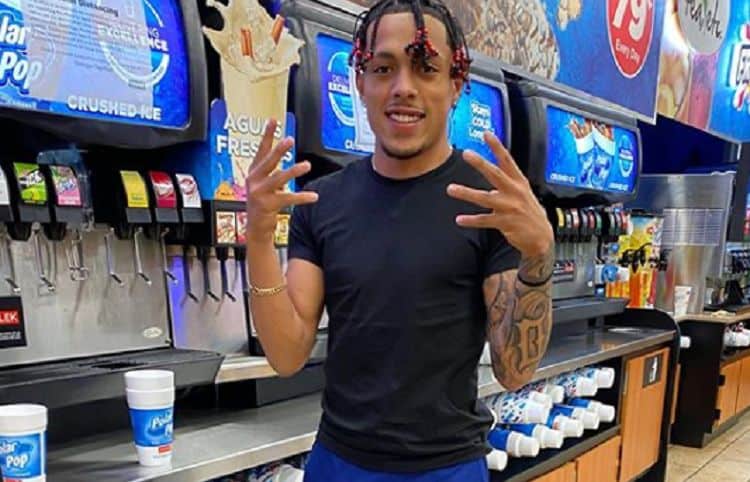 King Cid is a popular YouTube star who is known for pulling pranks and challenges and making videos of them for the content on his site. He's immensely popular and his fans are always interested in finding out more about this social media phenomenon. We looked into his history and what he's been up to lately and were impressed at what we learned. At a young age he has become a big success, and here are 10 things that you didn't know about King Cid.
1. His Birthday
King Cid sounds like the name of a big-time rapper, but in reality, it's a 19-year-old YouTube star, who is even more famous than some rappers who are just starting in the business. He's certainly the king of pulling off some really funny pranks. He was born on August 26, 2000. He has three siblings whom he grew up with and they're often featured on his social media content. Cid's parents were very supportive of his decision to pursue a career on social media. He had a childhood that was hallmarked with love and support which is a part of why he was able to become successful at such a young age.
2. He's in a relationship
Cid isn't a single guy which is a change that came about this year. He started dating Dy'mond Charleston in 2019. The two are partners and collaborators for his YouTube videos and she is an integral part of what he does these days. We didn't find any other information about past relationships so we're assuming that Dy'mond is his first real girlfriend, but then again, when it comes to his personal life, Cid is a private kind of guy.
3. King Cid used to work at a call center
Prior to becoming famous, Cid was employed at a call center. He worked this job while he was working on his YouTube video account. This kept him extremely busy because if you've ever seen his content then you know that he spends a lot of time planning out the pranks that he pulls, and he also enlists the help of others to make things go more smoothly. He was finally able to let his call center job go when he reached the 5,000 subscriber mark on his YouTube channel. he seriously needed to use the time for YouTube and to continue to grow what had all the earmarks of becoming a lucrative venture.
4. He's been on YouTube for almost nine years
In January of 2020, King Cid will reach year 9 of his YouTube career. He first started his channel on the site on January 3, 2011. His first video was titled the $20 Questions Challenge." This kicked off his barrage of content that has been going ever since. The content include a variety of challenges, pranks, reactions, and he's heavy on comedy videos and vlogs. His most recent video on YouTube was called "Last to Stop Kneeling on Rice Wins $10,000." This gives you an idea of the content and how funny it is. This video brought in more than 3.7 million views alone.
5. He's big on other social media platforms
It's no big secret that King Cid is a YouTube phenomenon. As of the end of September 2019, his subscriber count was all the way up to 878,000. With nearly a million subscribing, it's obvious that he doesn't need to have a second job. King Cid also has an Instagram account. Although not quite as big as his YouTube numbers, he's moving in the right direction. He had a total of 546,000 followers on Instagram as of the end of September. He's not only a YouTube phenomenon, but he's also a social media sensation.
6. He's not rich but he is certainly not poor
Many young people struggle to make ends meet when they're just starting out. This isn't the case for YouTuber King Cid. His pranks and the associated endorsements and branding as an influencer, not to mention the subscriptions to his channel have netted him a personal net worth that is estimated to be around $200,000 to $300,000. That 's not bad for being 19 years of age.
7. He loves to entertain people
We learned that King Cid has been entertaining the people around him for most of his life. His greatest passions as a kid were entertaining others and basketball. He's been known for pulling pranks since he was very young and he even became somewhat famous for it in his younger years. He's a truly funny guy and he took something that he is good at, and is a passion, and he turned it into a solid career. His funny videos have brought in over 40 million views and this is just one aspect of the content that he uploads to his site.
8. He has some good sponsorship
We also learned that he makes good money through sponsorships on his YouTube account. Because of the high volume of visitors and subscribers that he has to his page, brands are highly interested in advertising on the site and they're after his endorsement or at least a deal to advertise on his videos. the advertisers on his Instagram account pay for posts that they make and teh average amount that he charges them is between $1,470 and $2,450 which isn't bad at all. Viewership on his YouTube account average more than 266k and that is daily.
9. Some of his videos go into the millions of views
The most popular video that King Cid has posted is titled "When and How Did You Lose Your Virginity? Just this single video along has brought in over 2.4 million views and the tally isn't done stacking up yet. This is why we refer to him as a YouTube phenomenon. He has other videos that are also popular but this one tops them all.
10. He's a very positive guy
King Cid doesn't sweat the small stuff and as a celebrity, it's a given that there are going to be rumors and controversies started by those who are resentful and jealous of his success. There's always somebody out there who tries to bring you down. When it comes to utter nonsense and gossip, he's not thin-skinned and he simply doesn't pay much attention to it as some other social media stars have in the recent past. He just keeps doing what he does best and he focuses on love and positivity. He steers clear of controversy by being sensible and by maintaining a positive outlook. Most of us could learn from his amazing attitude and the way that he manages his life and his career. He's a fun-loving guy that might get into a bit of hot water for the pranks that he pulls now and then, but it's all in the spirit of good-natured humor and for the fun of it. He's not out to hurt anyone or cause them pain.