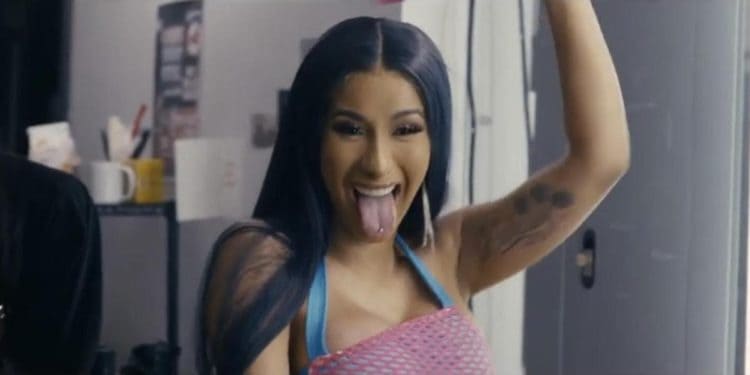 In the court of public opinion it's really better that each individual decides just how they feel about any given celebrity and with Cardi B there's a big divide between those that think she's the biggest thing to come around and those that think she's kind of a joke. She's become a sensation but has also gained a reputation from the things she's done in the past, and admitted to at least a couple of things that would probably land many other people in serious legal trouble if not jail outright. But there's no denying that she has a loyal fan base that has her back every step of the way, and would likely support a biopic being made about her at this point or sometime in the future. Whatever you might think of the rapper you might come to realize very quickly as as much wrong as she's done in her life she's still been an inspiration to many and is lauded as a very big role model.
Here are a few women that could possibly play the role of Cardi B.
5. Amber Stevens West
Amber is someone you might need to do some research on in order to find out that much about her, but she has the type of resume that's needed to be worth considering for a part such as this. One thing that seems to spring to mind is that any woman who took this role would have to be careful about how they played it and how they made the rapper look on screen. This is true with just about any celebrity that's being given a biopic and is still around, but these days it really seems that social media has only heightened the ability of people to reach out and really dig at each other for the smallest of slights.
4. Madison Pettis
This one might be more of a miss than a hit largely because Madison is still pretty young and doesn't quite have the same look that's needed. But if Hollywood was capable of finding people that mirrored those they were trying to tell a story about it seems as though it would be amazing. Too often it seems that they go with someone that bears only a passing resemblance to the subject they're trying to talk about, though in this case it does seem as though Cardi B could be represented by a lot of women that might find it possible to copy her attitude and her look and still make it work.
3. Zendaya
Again, the age thing is kind of an issue but it seems as though it could be overlooked since Zendaya has already shown that she's able to focus her acting talent in a way that speaks of her being absolutely professional and ready and willing to take on just about any role. Taking on the part of Cardi B is something that would likely gain a lot of criticism as well as praise from either side of the line, but overall it seems that she might be a good choice simply because if this biopic showed Cardi on the way up then Zendaya could possibly stand in for the rapper and be able to play the part without any issue.
2. Tessa Thompson
Ciara Wadlow of Film School Rejects makes a good point when she states that Tessa Thompson has been everywhere lately since it's nothing but true and it's been absolutely mesmerizing. One would think that seeing a single person in so many different productions might be kind of off-putting, especially when a lot of those productions are either provocative or are being hailed as some of the best movies around. In other words it means that she might be over-extending herself and could be coming close to a crash soon, but so far nothing has come of that thought and she's been riding that wave as far as it can take her. At this point no one is willing to wonder just when it's going to stop, and for good reason.
1. Meagan Good
Meagan is another actress that has been putting in work in the film industry and just needs that right push towards something that could really boost her career to the next level and really get her noticed. There are so many people in the industry these days that it's easy to say that they're all talented but only a handful will ever gain the notice they really want. In being selected for a part like this however it would no doubt boost anyone's notoriety in a way that would make them a little more well known and possibly give them the kind of edge they need to become the next big thing.
However you feel about Cardi B, and there are many that have been exceedingly vocal, her life is something that many people have come to appreciate.