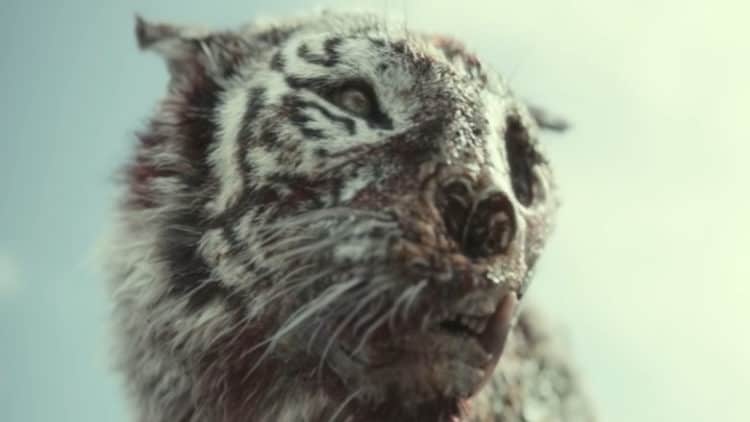 When the Netflix docuseries Tiger King was released in March 2020, it seemed to come at the perfect time. Places all over the world had recently shut down due to the COVID-19 pandemic, and people were spending more time in the house than they ever could've imagined. Tiger King provided just enough entertainment, mystery, and WTF to help get people's minds off of what was going on. If you're a big fan of the series, you may feel like you know everything there is to know about Tiger King. However, there's one thing that many people aren't familiar with. Tiger King has a very interesting link to the upcoming Netflix movie Army of the Dead, and it's something you'll probably never guess. Keep reading to learn about the connection between Tiger King and Army of the Dead.
What Is Army Of The Dead About?
Army of the Dead is set to be released on May 21, 2021, and lots of people are already looking forward to the movie. Written and directed by Zack Snyder, Army of The Dead is the story of a zombie outbreak that takes over Las Vegas and results in a very bold casino heist. As you can guess, breaking into a casino is very challenging even in a world without zombies, so the mission is even more complicated now that there are countless zombies to avoid. The movie stars some familiar faces including Omari Hardwick who is best known for his role as James St. Patrick (Ghost) in the popular series Power.
Despite still being a few weeks from its release, Army of the Dead has already generated quite a bit of buzz. Dave Bautista, one of the movie's stars, told Movie Web, "I've seen it like five times already. I'm not kidding. I don't wanna have you go in with super high expectations but you should. There's something about the end of this film that I'm absolutely obsessed with. It just… When you see it you'll see what I mean. I can't wait to hear everyone's feedback. I just love the end of this film…"
What Do Tiger King And Army Of The Dead Have In Common?
If you thought that being on Netflix was the only thing these two projects have in common, you might want to think again.As they say, 'the devil is in the details', and that's definitely the case when it comes to this connection. The zombie tiger that will be featured in Army of The Dead was actually modeled after a tiger that was once owned by Carole Baskin. For those who need a refresher on who Carole is, she was featured in Tiger King as Joe Exotic's adversary. However, her story took a suspenseful turn when viewers found out that her husband went missing under mysterious circumstances.
According to Collider, "Snyder says this choice was made before Tiger King was released, and the team spent a week on Baskin's sanctuary before the series revealed the threats and harassment campaigns between the rival exotic animal owners. As Snyder jokingly says, "at least they got out of there alive."
The fact that the connection between Tiger King and Army of the Dead has nothing to do with Joe Exotic means that he is probably in his jail cell punching the air. On the bright side, it's nice to see one of the tigers getting some shine after seeing how poorly they were all treated.
Will There Be Another Season Of Tiger King?
Tiger King was supposed to be a one-and-done kind of thing, but no one could have anticipated how popular it would become. For more than a year now, people have hoped the series would get another season and there's a chance they could get what they want. Although we weren't able to find any official confirmation that the series is returning, sources have reported that a second season is in the works. Initially, the release date for season two was believed to be March or April of 2021. However, since we're nearing the end of April and no official announcement has been made, we probably won't be getting a new installment any time soon.
If there is a season two of Tiger King, it'll be interesting to see what the focus is since Joe Exotic is still behind bars. Perhaps they'll dig a little deeper into Carole Baskin's story. Either way, there's a very good chance that plenty of people will be tuning in because the truth is that there's just something about Tiger King that's impossible to resist.