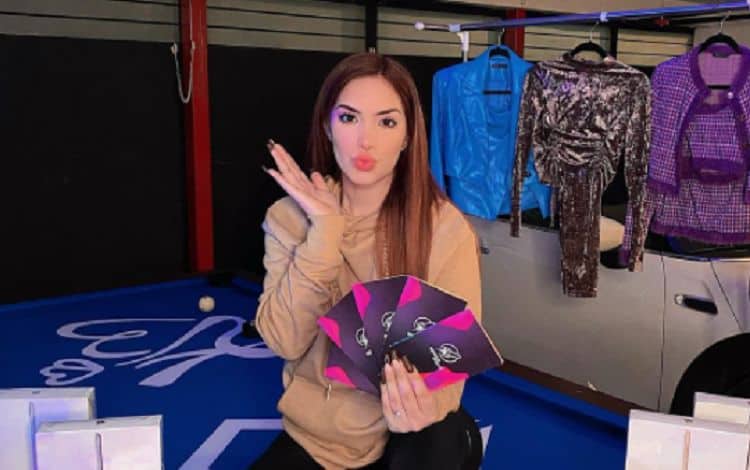 When you think of TikTok, what comes to mind? There's a certain generation that knows just about everyone on the social media app, and there is another generation that isn't entirely sure what the app is even though they've heard of it. There are also a few people somewhere in the middle, but anyone who knows anything about it knows the name Kimberly Loaiza. She is touted as the 13th most followed person on the app. She's young, she's famous, and she's made quite a name for herself uploading videos of herself lip-syncing and dancing for the world to see.
1. She's Young
Something fans are always curious about when they discuss Kimberly Loaiza is how old she is. She's so young, but fans love her. She was born on December 12, 1997. That means she will celebrate her 24th birthday at the end of 2021. She was born in Mexicali, Mexico.
2. She Began Using the App in 2016
What is amazing about her debut on the app is that she had more than 100k subscribers in under a week. She was that good, and that many people wanted to follow her on the app and make sure she was able to provide them with the best kind of entertainment possible. She did a good job of it, too.
3. She's Married
She might be quite young, but she's a married woman. She married her husband, Juan De Dios Pantoja, in 2020. He, too, is a famous social media star. He began posting funny videos on his Facebook page many years ago, and he then moved over to YouTube. He has something like 20 million followers on that app alone. He is also from Mexico.
4. She Married Her Husband Twice
There is one little caveat about her marriage to her husband. She married him legally in 2016 and they continued their marriage until 2018. Then there is nothing but information that says they were married a second time in 2020. Did they divorce? We are not certain.
5. She's a Mom
Back to the mix of what happened between 2018 and 2020 when she and her husband were legally married twice. They also welcomed a baby in 2019. They had a little girl they named Kima. She gave birth to their second baby in February of 2021, but there is no information about this new baby for us to find other than the fact that it is a boy this time around.
6. She's the Oldest Sibling
Growing up, she was the oldest of the bunch. She has two younger siblings. Her sister is Steffany. Her brother is Carlos. She and her mom, dad, and her siblings lived in Mexicali for some time, but her family moved to Mazatlan, Sinaloa when she was only nine. This is also the birthplace of her husband.
7. She Was Accused of Simulating a Separation
When this couple remarried in 2020, the world was not amused. Many of their fans and critics thought that perhaps the couple simulated their breakup to cause more attention to them. Some believe it. Some do not. They have simply said, together, that they are not a perfect couple. They tried to work things out after they separated and their daughter was born, and they certainly knew that they had to try and make it work when she became pregnant a second time before they were remarried. The rumors began to circulate that their marriage initially ended because Lizbeth Rodriguez accused Loaiza's husband of cheating on her with a photographer by the name of Kevin Achutegui.
8. She Has a Ton of Followers
Instagram is where people go to become influencers, and it works for many. They gain a few million followers, charge a lot of money for sponsored posts, and they live a good life. However, Loaiza has more followers than even the biggest influencers in the market. She's got more than 28 million people following her page.
9. Family First
She is a big believer that her family comes first, and she's not afraid tos hare them with the world. She often posts photos of her kids on her social media channels, and family photos are also important to her. Her babies are adorable, and she is clearly a very proud mother.
10. She Met Her Husband When She Was 17
When she was only 17 and he was 19, they met. They were both on social media at that point, though she was not yet famous. They grew together, they loved together, they lost together, and they've decided to work on the relationship that they have with one another despite the drama and the differences.
Tell us what's wrong with this post? How could we improve it? :)
Let us improve this post!