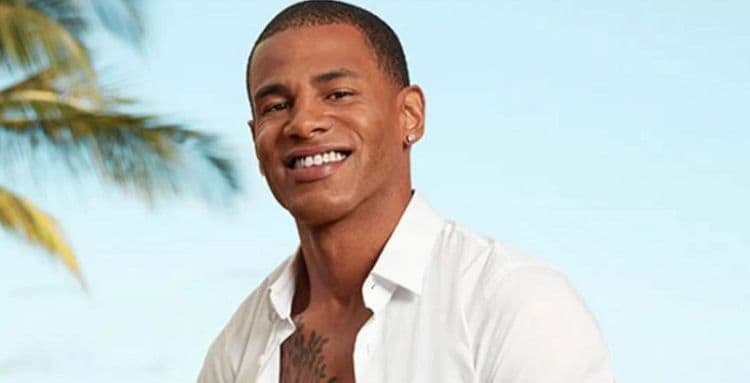 George Maxey is handsome, young, and he loves to flirt. He's hoping that combination will earn him some attention while he's on Temptation Island. George is a cast member for the show's fourth season, and he's ready to have a great time. Unlike some of the other people on the show, George is much more interested in flirting than he is in finding someone to settle down with, but you never know what can happen on a show like this. Throughout the season, George and a group of other single men will be living in a house with a group of women. Although the women are all in long-term relationships, they are open to the idea of exploring new connections. George is hoping that one of those new connections will be with him. But due to his history as a lady's man, it'll be interesting to see how things pan out for George. Keep reading to learn 10 things you didn't know about George Maxey.
1. He Went to an HBCU
George comes from a family of educators. Both of his parents are principals and their passion for learning is something that has been passed down to George. After graduating from high school, George went on to attend Florida International University for two years before transferring to Florida A&M University in Tallahassee (FAMU). FAMU is one of the most well-known historically black colleges in the country and it has a rich history as well as a long list of noteworthy alumni including Anika Noni Rose, Althea Gibson, and Common. Historically Black Colleges and Universities (HBCUs) have been an important part of the Black American community for more than a century and George is proud to be part of that legacy. While at FAMU, George earned a bachelor's degree in elementary education and teaching. That said, it doesn't appear that George has ever worked in the field of education.
2. He's An Aspiring Actor
Being on Temptation Island is the first time that George has been in front of a camera. He has done some acting over the years and it appears to be something that he hopes to take even further. According to his profile on Backstage, George has already earned a couple of on-screen credits. However, it doesn't look like he has undergone any kind of formal acting training. I have to be honest, though, it's always a little disheartening to find out that someone on a reality show is an actor (or wants to be one). While it doesn't necessarily mean that their behavior on the show is all an act, it does suggest that they are just using reality TV as a way to gain access to bigger opportunities. Even though most of us are well aware of the fact that reality TV isn't exactly real, knowing that people are just trying to break into the entertainment industry can sometimes make the shows a little less interesting.
3. He Has a Great Sense of Style
Now that we've established that George is an actor, it goes without saying that self-expression is something that is very important to him. However, acting isn't the only way he likes to express himself. George also has an interest in fashion and he loves putting together outfits that allow him to share his personality with the world. Whether he's heading to a formal occasion or he's having a chill day with friends, George always likes to make sure he looks his best. His love for fashion has also led him to the modeling industry and he has participated in a few photoshoots over the years. It's unclear if he has gotten the chance to work with any major brands at this point in his career. People who are also interested in fashion will get to see George give some great looks over the course of the season.
4. He Doesn't Have A Large Social Media Following…Yet
Some of the cast members on this season of Temptation Island already have very large social media followings. That isn't the reality for George yet. From what we know, Instagram is the only platform where he is an active user. Somewhat surprisingly, he has less than 2,000 followers at the moment. By the time the season is over, though, his following will likely grow exponentially. Once he builds a larger audience, there's a chance that he will get the opportunity to partner with companies to help market their products. A bigger following will also probably open the doors to lots of other great opportunities for George. Over the years, we have seen countless people go from being virtually unknown to becoming social media influencers all because they appeared on a reality TV show.
5. He Loves to Cook
To some people, cooking is nothing more than an annoying chore that only gets done out of necessity. For others, however, cooking is a great way to relax and unwind while being creative and making something delicious. George definitely falls into the second category. His official bio on the USA website mentions that he really enjoys cooking. Unfortunately, there is no information on what kinds of things he likes to make. The fact that George likes to cook will probably earn him some cool points with the women on Temptation Island. After all, having a partner who can cook is something that many people want.
6. He Was in The NFL
Sports have always been a very important part of George's life. Not only did he grow up playing several sports, but he excelled at them as well. During high school, he was a member of the football, track and field, and soccer teams. He went on to play football at FAMU where he was a linebacker. Although the majority of athletes' careers end after college, George entered the NFL draft where he was chosen by the Chicago Bears; however, his career lasted for just one season. We weren't able to track down any details about his stats during his time in the NFL. Although his playing days are over, football continues to the center of George's life. He currently works as a football analyst. Like many other former athletes, George still likes to keep himself in great shape although he no longer plays competitively.
7. He Grew Up In Florida
George was born in Ohio, but he is truly a Florida boy through and through. He grew up in the Miami area and he still lives there today. In fact, from what we can tell, George has lived in Florida for his entire life other than the time he spent in the NFL. As you can probably guess, George enjoys spending time out in the beautiful weather and hanging out at the beach. While there's no doubt that George really loves Florida, he may have to be open to the possibility of relocating depending on how things go on Temptation Island. If he makes the right connection, he may decide that it's worth moving across the country for.
8. He's A Private Person
Since George has agreed to do a reality TV show, it's easy to assume that he's the kind of person who likes to put his business on blast. That doesn't seem to be the case, though. Although George is active on social media, he never posts anything pertaining to his personal life. There also doesn't appear to be much information about him floating around on the internet. In a world where oversharing has become very common, it's easy to see why George has made the decision to stay a little more low-key. At the same time, we will probably get to learn a lot more about him throughout the season.
9. Family Is Important to Him
Despite the fact that George enjoys his privacy, we do know that family is something that has always meant a lot to him. In addition to having close relationships with his parents, we know that George also has three siblings. When George gets free time, he enjoys spending it with his loved ones. Based on some of the comments on his Instagram posts, it's clear that George's family is supportive of his reality TV journey. We weren't able to find any information on whether George would like to start a family of his own. Either way, however, the fact that he is a family-oriented person is something that will help him get some attention from the ladies on Temptation Island.
10. He's A Porsha Williams Fan
George may be all about Florida, but his favorite city is actually in another state. He says that Atlanta is his favorite place because it's home to Real Housewives of Atlanta star, Porsha Williams. George finds Porsha very attractive and he isn't afraid to let the world know. Unfortunately for George, Porsha is off the market and is currently planning her wedding with her fiance, Simon Guobadia. However, that George is about to be a reality TV star, there's a chance that he and Porsha could cross paths and he will at least get the chance to meet her.