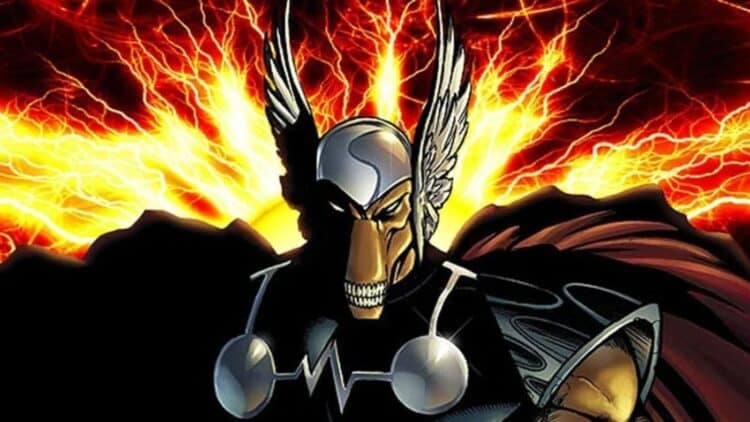 There are so many different characters that fans feel need to be included in the MCU at this point that trying to pile them all into one movie or another is bound to become a little difficult. But on the upside, there isn't a shortage of those that are ready to take on one role or another. Beta Ray Bill is a character that many people have been wanting to see for a while, and his likeness has been seen in a couple of movies, as it was seen in Thor: Ragnarok when a view of the tower that housed the Hulk was shown, and there was a Korbinite skeleton seen in the opening to Guardians of the Galaxy vol. 1. Fans of Marvel movies will no doubt remember that Beta Ray Bill was also used in the animated movie, Planet Hulk when he was forced to do battle with the emerald giant. Things didn't turn out that great in the gladiator pit, but it had more to do with the fact that Bill didn't really want to fight, as he and the Hulk had been compelled to do so by the ruling emperor of the planet.
It's uncertain whether Bill will be seen in Thor: Love and Thunder, but several people appear to be of the mind that there are moments in the trailer that have been altered to hide someone that might have otherwise appeared. Just as important as seeing the character is who will be voicing him when the time comes for his big reveal, and the fact that Keith David is willing to lend his voice talents to this character is enough to get people even more excited about whether he's in live-action or simply doing a voice-over, fans are bound to appreciate his efforts. Thinking of where Bill will come into the MCU isn't the biggest issue right now, it's wondering when he'll come in since given the propensity for keeping secrets that were shown in Ragnarok, this could likely be another secret that Odin kept from his son.
Or, Thor might know about Bill but also knows that the figure has a duty to his people as well as to Asgard, and hasn't contacted him simply because Beta Ray Bill is the type of character that goes where he will. Given that his image has already been seen in the MCU it's not tough to think that he will show up eventually, but at the same time, introducing so many others feels as though it might take priority unless that's just wishful thinking at this time. But hopefully, Bill will be brought into the MCU in the next few years to give Keith the chance to put his vocal skills to use once again. The fact that Keith David has a very distinctive voice makes it fun to think about this happening, but it does leave a person to wonder how far Bill would be pushed in the MCU since at this time it sounds as though Thor might be nearing his end with the franchise, and so will the Guardians of the Galaxy, who Bill also interacted with in the comics.
This is where the attempt to bring Bill into the MCU would likely find a big hurdle to get over since trying to figure out where to plug him in and who he'll be interacting with shouldn't be a huge issue, but with those he's known to hang around being on their way out already, it's interesting to think of where he might fit. If Lady Thor is meant to stick around then perhaps this will be a great opportunity to bring Bill into the mix. But what his overall story will be is tough to say since he's been a part of several big events in the Marvel universe, and has fought alongside many characters that are hopefully on their way to the MCU at one point or another. At this time it's tough to know when several characters are going to be revealed, but the desire to see several well-known characters make their way onto the big or small screen is strong enough that hopefully, the MCU will start to see the wisdom in introducing a few faces that fans have been asking for.
Beta Ray Bill could even be a replacement to Thor that might catch on if his story is treated with the type of respect that could lead to another couple of movies, and many might want to embrace this character for at least a couple of movies if not more. With Keith David's enthusiasm to play the character, it's hopeful that we'll eventually see Beta Ray Bill enter the picture, even if it's fair to say that his appearance will likely be CGI. With Keith David's voice that doesn't sound like it would be a big deal.