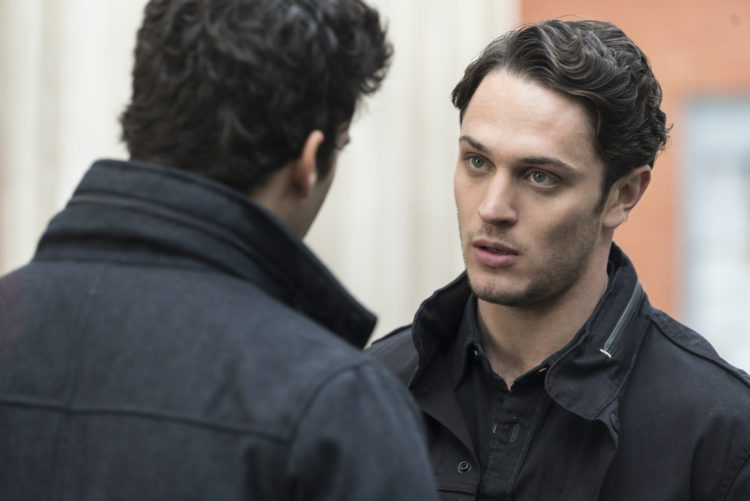 Colin Woodell is an American actor who is best known for his role on the USA Network television series "The Purge." He plays the part of Rick Betancourt. Woodell is a talented and versatile actor who has an interesting life story so far, but he's not even remotely finished on his journey. Fans are always interested in learning more fun and interesting facts about their favorite celebrities so here are 10 things you didn't know about Colin Woodell.
1. He's 21 years old
Colin Woodell has just reached the age at which it's legal for him to enter a bar. He turned 21 years of age in 2019. His 22nd birthday will come on December 20th of 2019 so he's not quite there yet, but close. He's the perfect age to assume a number of film and television roles of characters that range in age from late teens through mid-20s. He's in his prime.
2. He's acted in several film roles already
Woodell hs several film and television series credits in his portfolio. In addition to "The Purge," he's also appeared in "Unfriended: Dark Web," "Designated Survivor," "Unsane," "Searching," and "XOXO." Other television series he's acted in include "The Originals, in the role of Aiden, and in "Masters of Sex" on Showtime with a recurring role that rand fro 2013 through 2016.
3. Colin is also a stage actor
Woodell has done a lot of different kinds of acting. In addition to film and television, he has also appeared on the stage. He appeared Off-Broadway in "Dying City" a second Stage Theater production in 2019. He also acted in the "Long Day's Journey Into Night" production of the Geffen Playhouse.
4. He is a formally trained actor
Colin started his professional training as an actor at The American Conservatory Theater, and this is where he also delivered his first theater performance as a professional actor. He relocated to the city of Los Angeles so he could enroll at the University of Southern California's School of Dramatic Arts. Colin completed the program earning his bachelor of fine Arts degree in Theater.
5. He comes from a talented family
Colin has an older sister who is currently 29 years old. His sister is Keelin Woodell and she's about seven years his senior and is also an actor. Keelin appeared in "CSI: Miami" in 2002, in "Agents of SHIELD" in 2013 and in "The Bye Bye Man" in 2017. The two were raised in the city of Burlingame in California. It seems that acting just runs in the blood for the Woodell family. When you compare their photos side by side you can see the family resemblance between these two extremely attractive siblings.
6. You can find Colin on Instagram
Out of curiosity, we checked up on Colin's social media accounts. When we came across his Instagram account, we couldn't help but notice that he has some really great photos posted there. If you want to see a good variety of pictures, then you can visit his site. Woodell is good about keeping it current. He's following 321 on his page and he's made a total of 268 posts. He also has 118,000 followers which is astronomical, and if you want to stay updated on what he's up to, one more follower certainly won't hurt his feelings.
7. He's listed on his Alma mater's website
The University of Southern California School of Dramatic Arts is very proud of the fact that Colin Woodell is an alum. The school has dedicated a page to let everyone know about his successes. As it turns out, the school was very good for him, and he serves as some great press for their recruitment efforts as well. It's always nice to be officially recognized for your accomplishments, and he did all of this by the time that he was just 21 years old.
8. His work is highly rated
Colin has gotten off lucky when it comes to harsh critics of his work. The popular rating site Rotten Tomatoes has listed his highest and lowest-rated works on their site. They take the information from surveys and opinions that amateur critics post about certain celebrities and the overall ratings given for their acting performances. He received his highest rating of 80% approval for his role in the film "Unsane" in 2018. Colin's lowest-rated performance wasn't bad as it was given a 61% for his role in "Unfriended: Dark Web," also released in 2018.
9. He is reportedly dating
When fans ask if Colin Woodell is single or in a relationship, there isn't a lot of verifiable information about it, but the rumor mill has suggested that he's been dating actress Danielle Campbell. She was formerly associated with Louis Tomlinson of the boy band One Direction in 2015, but the relationship had long since ended. We're not certain of the status of their relationship at this time.
10. He's a rising star
Colin Woodell is still a very young actor, although he has a lot of experience under his belt. He's what we call a rising star. He's done some really impressive things in his career already, but he has not yet achieved the status of superstar. This could all change with just one new role in the right kind of film. He's doing very well so far in his acting career, but where it will go from here, is anyone's guess. If we had to bet on it, we'd wager that Colin Woodell is just at the beginning of a very long and lucrative career in the acting business.
Tell us what's wrong with this post? How could we improve it? :)
Let us improve this post!