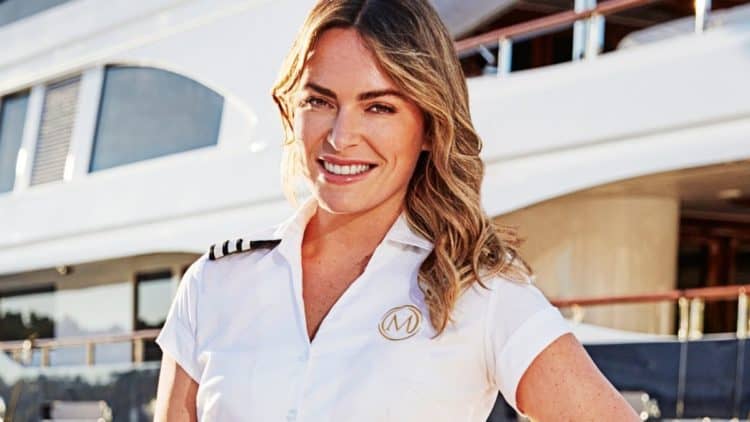 Now that Below Deck Mediterranean has officially entered into its sixth season, lots of fans are excited about what the new cast has to offer. Katie Flood, who made her reality TV debut on the show, is already getting a lot of attention. As the chief stewardess, Katie has a lot of responsibility, but that doesn't bother her. Katie isn't afraid of a little hard work and she's ready to do what it takes to make sure all guests have a great experience. Katie isn't really the type to get involved in drama, but as we've seen before, it's impossible to avoid in a small space like a yacht. Viewers will have to continue to tune in to the show to see how things go for Katie while she's out at sea, but no matter what happens she's going to make the most of it. Here are 10 things you didn't know about Katie Flood.
1. She's From New Zealand
Something that makes the Below Deck franchise really cool is that cast members can come from all over the world. Katie was born and raised in New Zealand although she has since lived in different places all over the world. No matter where she goes, however, New Zealand is always in her heart.
2. She's All About Positivity
Katie has been through her fair share of ups and downs over the years, both personally and professionally. No matter what she goes through, though, she is someone who always does her best to see the bright side of things. She likes to spread this positive attitude to all the people she comes in contact with.
3. She's Not New To Yachting
Katie's rise to becoming the chief stewardess isn't something that happened overnight. Katie has been working in yachting for more than six years and during that time she's risen through the ranks. This line of work allows her to earn a nice living while also getting to travel to all sorts of beautiful places.
4. She Likes To Do Yoga
Yoga is a great way for Katie to keep herself in good shape physically and mentally. Another thing that makes yoga perfect for her is the fact that it can be done in a relatively small space and without the use of expensive equipment which makes it ideal to do on a yacht.
5. Family Is Important To Her
Katie comes from a very tight family and she's thankful to have such solid relationships with her loved ones. They have been her support system over the years and continue to stand by her. We haven't found any information on whether Katie plans to start a family of her own someday.
6. She's Dated Another Below Deck Star
Season six of Below Deck Med is technically Katie's first time on reality TV, but she did make a minor appearance during season four when she was dating deckhand Jack Stirrup. During an interview with US Magazine, Katie said, "He was that one really deep love. … I don't know if we could ever be together again. I have so much love for that kid and like, he is such a big part of my life and like he'll always be in my heart."
7. Hannah Ferrier Sent Her A DM
If there's anyone who knows what it's like to be in Katie's shoes, it's Hannah Ferrier who was the chief stewardess on Below Deck Med from seasons one through five. Hannah and Katie have yet to meet in real life, but Hannah did reach out via social media to introduce herself. Katie told Decider, "she was really kind, she reached out, she sent me a DM and she just said congratulations and that she's here if I need to talk to her about anything, just dealing with the social media side of things. "
8. She Has Anxiety
Anxiety is something that lots of people deal with, but not everyone is open about their experiences. Although Katie hasn't gone into detail about her struggles with anxiety, she did tell Decider that it's something she deals with. Several of the situations she'll be in during the season will definitely heighten her anxiety.
9. She Loves Alaska
When most people think of Alaska, snow is probably the first and only thing that comes to mind. However, it's much more than that to Katie. While talking to Decider she discussed how much she loves Alaska and mentioned that it's one of the most beautiful places she's ever been.
10. She Isn't Worried About What People Think
Being on a reality TV show requires thick skin. After all, from the moment the cameras start rolling, there are going to be people sharing their opinions. Katie has decided not to get too caught up in what people think, and she isn't going to let the haters ruin her day.