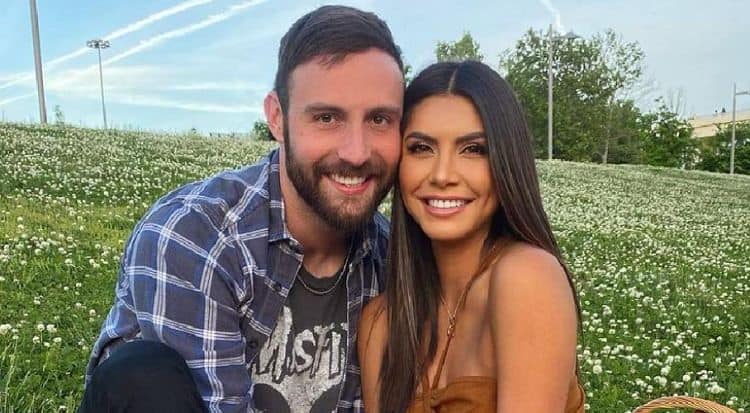 When Ruston Kelly and Kacey Musgraves shared their love story with the world back in 2016, everyone was enamored. The couple met after a performance at the iconic Bluebird Café in Nashville – yes, that Bluebird Café. The one where Taylor Swift and almost every other country artist in the world became famous. The couple met, their whirlwind romance had them engaged less than 9 months later, married 10 months later, and living a fairytale dream afterward. When the couple announced their joint decision to call it quits in the summer of 2020, their fans were destroyed. How could this picture-perfect couple not be happy? Both Kacey Musgraves and Kelly have remained tight-lipped about the reason behind their divorce, though Musgraves did say that she simply felt alone and that their marriage did not work. Both have maintained that they carry the utmost respect for one another, their careers, and their short marriage, and now fans are beside themselves that Kelly has a new girlfriend. Her name is Tori Barnes, and they seem happy together. Some fans are unhappy about this while they hold on to the belief that the ex-spouses will somehow get back together, and others are simply happy that they are happy and have moved on. All, however, are curious to know who Tori Barnes is.
1. She is a Floridian and She's From Iowa
From what we can ascertain about this young model is that she is a Floridian by way of Iowa. She seems to be from the Fort Meyers area, though it's also clear from her social media posts she no longer resides in the Sunshine State. In fact, it seems she's a Nashville native these days
2. She's a College Graduate
The reason she's in Nashville today is that she attended university in the city. She's a graduate of Belmont University in Nashville. She graduated back in 2019 with her degree in Arts and Music Business, though we are unsure at the moment if she is using that degree in any capacity.
3. She's a Model
At the moment, it appears her source of income is working as a model. She doesn't appear to have graced the cover of any major magazines, nor can we find any information about her walking any runway shows for major designers, but that certainly doesn't mean she is not a successful model wherever she is working. She's doing well enough to call it a career, and we imagine she's working on making it bigger.
4. She is Chilean
This information comes straight from her Instagram biography. She's Chilean born and Iowa raised, then she went to the Sunshine State, and now she's in Nashville. We assume this means one or both of her parents is/are from Chile. We know this means she is proud of her heritage.
5. She's Not Super Active on Instagram
Barnes is not a super active Instagram poster. She has only 159 posts, and it doesn't take long to scroll back a few grids and find yourself back in 2017 with another man by her side. It seems she's been in a relationship that was at least partially serious prior to this one, but it was some time ago.
6. She Calls Ruston the Brightest Thing in Her Life
In a birthday tribute to him on her page, she calls her boyfriend the 'brightest,' light in her life, and she seems very happy. No one knows just how long the two have been together, though there is some speculation that they did meet back in January of 2021, a month after his divorce was finalized. They did not go public on social media until May.
7. Her Boyfriend is Into Her
Anytime she posts a modeling photo on her social media page, Ruston Kelly is the first to comment. Well, not always the first, but he's always commenting with heart-eye emojis, telling her he's on his way home, he caught an early flight, those are his favorite photos, etc. Kelly is clearly very much into his lady love.
8. She is a Twin
And an identical twin at that. She and her twin sister, Cece Barnes, are obviously gorgeous, but it's not well-known that the model is a twin. She is, but it simply doesn't seem to be something that the world is aware of.
9. She is the Younger Sister
While we have no idea just how old her sister is or how old she is, we do know from reading comments that they leave one another on their Instagram feeds that Tori's sister is the older sister. By how much, we don't know, but she is clearly the baby.
10. She's Inherently Private
It seems that while she's living that public life, she's not sharing that private information. Tori Barnes might be dating a country music star, but she's not sharing her personal life with anyone other than her friends and family.
Tell us what's wrong with this post? How could we improve it? :)
Let us improve this post!