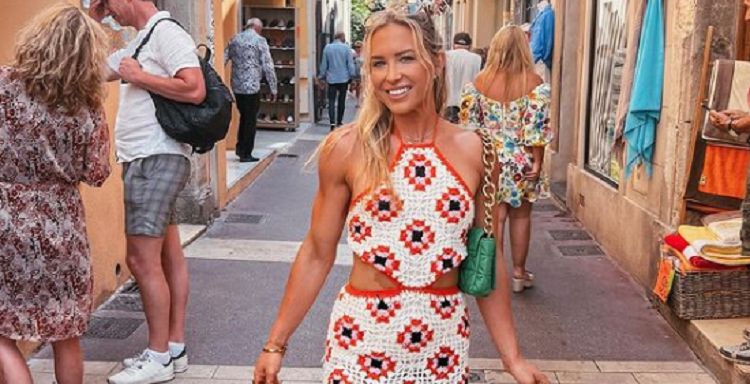 When you are rumored to be dating one of the most eligible bachelors in the nation, your name tends to show up on the internet a time or two. When Kathryne Padgett was spotted out and about with a man by the name of Alex Rodriguez – yes, the one who played professional baseball and dated Jennifer Lopez before asking her to be his wife – you find yourself in a frenzy of people wanting to know everything about you. She's living the life right now – and we are sharing what we know.
When she's not busy being photographed out and about with Alex Rodriguez, former baseball player and fiancé to none other than the famous Jennifer Lopez, she is doing her thing on the social media platforms she manages. She's a fitness model with a following, and it seems those who follow along with her journey really enjoy themselves.
2. She is Young
It's interesting that she is so young because her new boyfriend is nearly 21 years her senior. A-Rod is around 46, and rumor has it this young model is only 25. While age is nothing but a number, these two seem to have no problem with the fact that there is a significant age difference between them. Good for them.
3. Her Relationship is Rumored to Be Kind of Long Term
Here's what fans are really into reading. It seems that even though they were only recently photographed together in public for the first time, there are rumors these two have been dating since at least January 2022, which means they're more than 6 months into this relationship. Is it serious? Neither party has made any effort to confirm or deny this.
4. She is a Bodybuilder
Not only is she into the fitness world as a model, but she is also into it as a person who likes to work out. She's always busy working on her bodybuilding skills, and it shows. She is doing big things as a person, and it is clear to all of us that her health is the most important aspect of her life right now.
5. She is a Texan
They say everything is bigger in Texas, and it isn't a lie. She's a Texas native who comes from the lovely city of Dallas, and she is proud of her heritage. She loves the state, she loved growing up there, and she has fond memories of her childhood and all that it entails from the time she spent there.
6. She is a College Grad
When she was finished with her high school career, she went right into her college education. She was a student at the University of St. Thomas, and she spent some serious time working on her degree. She graduated with a bachelor's degree in 2019, and she is proud of that.
7. She is a Dietician
When she's not in the gym, she's working on nutrition. She is a dietician, and that is what she studied in college. She is very much into good health from the inside out, and it shows. She is rumored to be employed as a Director of Nutrition for a company called Doyle Sports Performance.
8. She is into Sports
We mean this in that she is into sports as a game and not just into athletes. She is a huge sports fan, and she attends professional sporting events on a regular basis. You can find her doing big things with her life on the court – and off the court. She even played sports in college and growing up in Texas.
9. She Played College Sports
During her time in college, she was part of the collegiate athletic team. She was a soccer player, and she loved it. It was a sport she played her entire life, and it is one that allowed her to remain active and still have a good time while building lifelong relationships and more. Sports are the best.
10. She's Private
She is currently dating one of the most famous men in sports right now, and she's not even talking about it. She is keeping it all to herself, and she tends to do that. She's not someone who likes to discuss her relationships online even if they are not of the high-profile variety. While we don't know how she and A-Rod met, we know that they seem to be enjoying keeping one another's company, and that is all that matters. It's not of our business how else this worked out for them.
Tell us what's wrong with this post? How could we improve it? :)
Let us improve this post!