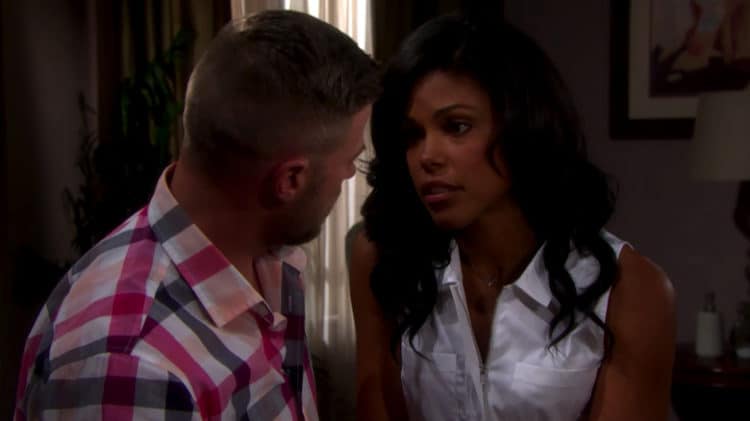 When it comes to soap operas, Karla Mosley is truly a legend. Over the course of her career, she's played significant roles in the most popular soaps on TV. Most people will remember her best from her role as Maya in The Bold and the Beautiful. During her time on the show, she appeared in more than 500 episodes. Recently, she has joined the cast of The Young and the Restless and her fans are excited to see her back in the soap opera world. Although soap stars often get discredited because their work isn't always taken seriously, Karla has proven time and time again that she is the real deal. Let's talk about 10 things you didn't know about Karla Mosley.
1. She Used To Be In A Singing Group
Karla's acting has made her well known all over the world, but she's also a very talented singer. When she was younger, she was in a group called Sugar Beats which was essentially a rock band for kids. Unfortunately, we weren't able to find any music from her time in the group.
2. She Studied At NYU
Karla was born and raised in New York and she decided to stay close to home for college. She attended New York University where she studied at the Tisch School of the Arts. She graduated with honors and then went on to continue her studies in France at the Roy Hart Vocal Institute.
3. She's Passionate About Social Justice
If there's one thing Karla isn't afraid to do, it's speak her mind. She has always been very vocal about the things she believes in, and social justice is one of those things. She has supported several causes including supporting houseless people and working with abandoned youth. Karla is also very dedicated to the fight to end racism. Karla also encourages her social media followers to do their part to help others.
4. She Hosts A Podcast
The world may see Karla as an actress, but the truth is she is an all-around creator. She is the co-host of a podcast called The Risking Space. According to the show's description, The Risking Space explores " tough topics and uncomfortable spaces where art is created and why the heck we thrive within it."
5. She's A Mom
Some people might assume that Karla's career is the most important thing in her life, but in reality, she is all about family. In 2018, Karla and her longtime boyfriend, John Rogers, welcomed their first child together. When she isn't working, you can bet that she is enjoying time with her family.
6. She Enjoys Spending Time Outdoors
No matter how successful a person is, sometimes it really is the simple things that mean the most. Karla has lots of love and respect for nature and she loves being outside and taking it all in. Some of her favorite outdoor activities include going on walks with her daughter and hanging out by the ocean.
7. She Loves Interacting With Fans
Karla fully understands that the success she's achieved would never have been possible without a dedicated group of fans. She is grateful for all of the support they've shown her over the years and she enjoys getting the chance to connect with them via social media.
8. She's A Writer And Producer
The majority of Karla's career has been spent in front of the camera, but some don't realize that she's also done some work behind it. She made her debut as a writer and producer in a TV series called Wed Locked in 2009. Since then, she has gone on to produce several other projects including the upcoming movie Femology One: Journeys Through the Female Mind which she will also be acting in.
9. She Was In An Episode Of Gossip Girl
Karla's soap opera roles are what has made her famous, but on the journey to stardom, she made a few other stops. One of her earliest TV roles was actually in an episode of the popular series Gossip Girl which aired from 2007 to 2012. The role may have been small, but she will forever be able to say she was a part of one of the greatest young adult mysteries of all time.
10. She Likes To Read
Karla has always been the kind of person who loves to learn new things. Reading has become one of her favorite ways to do that. Sitting down with a good book is one of her favorite ways to educate herself, but it's also the perfect way for her to relax and unwind after a busy day.
Tell us what's wrong with this post? How could we improve it? :)
Let us improve this post!