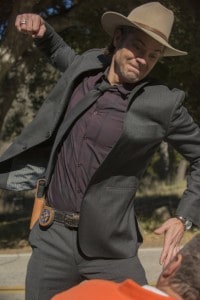 The gun fighting in tonight's Justified, "The Hatchet Tour", was mostly used for comedic effect for a change. A very refreshing change considering all of the tension about guns surrounding us in this day and age. Outside of the nearly slapstick shoot-out between Patton Oswalt's Constable Bob and Lee and Gerald, which included getting the now legendary Go-Bag into the action, guns serve a particular narrative affect in this episode.
The episode begins with Raylan (Timothy Olyphant), who is supposed to have the day off, hijacking prisoner transfer duty for Hunter (Brent Saxton). Back at HQ Art throws the mother of all hissy fits upon learning what Raylan has done, still over-estimating Raylan's emotional potential over the death of his father. For what it is worth, though, Raylan is all business. His only purpose for dragging Hunter off his path to the Super Max for killing his father is finding out who Drew Thompson is.
This arc gets eclipsed by the B story, which includes Boyd finally finding out that Ella Mae was not exterminated by Colt after all, and therefore still a threat to Ava's freedom–ostensibly. Shelby talked about putting Boyd away for good, but even Boyd concedes at one point that Ava has more to fear from Ella Mae than he does. This plotline had the most emotional leaps, kicking off with Boyd and Ava house shopping with a briefcase full of cash and the sense that they have ascended to masters of choice, to ending with Ava going into hiding while Boyd attempts to close the book on Ella Mae.
During the entire B story a lot of guns are pointed and used in punctuating fashions–the typical social 'power tool' for situations that require someone to 'get rough'–but they are also used as truth detectors, with Raylan having Colt put his gun to the back of his head to demonstrate how he put Ella Mae down. They also become statements of identity, with the two men comparing ammo gauge in a way that might suggest it is actually a deeper subject than it is.
Of course Raylan's plotline, regardless of being pretty linear compared to Boyd's, got the most dramatic plot advancements. Or, maybe 'advancement' is the better term. During his road trip with Hunter, Raylan does get some perspective on his unwitting cohort's character, he may have even wound up respecting him for his devotion to protecting the identity of Drew Thompson. Luckily for him he is relieved of duty when Sheriff Shelby outted himself as Drew Thompson and gave Hunter the keys to his shackles while Raylan was otherwise occupied. Interestingly enough, Hunter did unlock his restraints but he didn't take the opportunity to go on the lamb. Maybe he picked up some respect for Raylan on the way to this point as well.
I really think they foreshadowed this reveal too heavily last week, but then again I'm not sure there is a latent case for Shelby being Drew up to this point anyways, so outside of a lucky guess there wasn't going to be an 'ah ha' moment without the foreshadowing, so that's cool. I'm just glad I get to see one of my favorite actors in the world, Mr. Jim Beaver, play such an integral character. I've been dying to see him miraculously resurrected over on Supernatural, so seeing how well the Justified crew can work over his acting chops for the rest of the season is going to be a real thrill.
I think with the variables as they are setup right now, the Drew Thompson plotline could end up being one of the best so far. I'm a little surprised that such a well done but very minor character as Ella Mae is central to everything, particularly the human element of all of this. She is inextricably connected to Shelby/Drew now and because of her secrets is wanted for dead. Boyd now has a personal reason to find Drew and Raylan, who sees the case as the path to a better position in the Marshall's service, is his biggest obstacle. A lot of fates are on the line.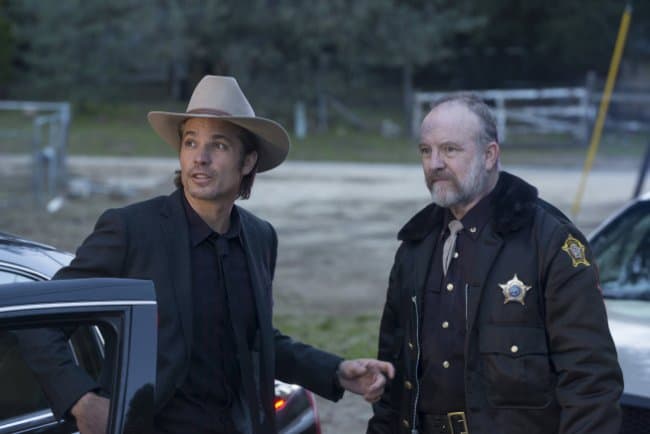 Tell us what's wrong with this post? How could we improve it? :)
Let us improve this post!